#Writing short stories for your artwork.
As a group host/moderator on RedBubble I have the wonderful opportunity to view many great photographs and the duty to read the attached descriptions. Making a decision to accept or reject an artist's submissions is often a heart wrenching task. Often the choice is obvious the photograph meets the group's guidelines and is accepted, sometimes though I need to learn more about the photo. Eagerly I move to read the description only to find I can purchase a print and nothing more.
What a disappointment if only the artist had taken the time to provide some basic information they would certainly gain exposure and possibly many sales. Many groups require specific information in the caption or cut line for a photo. Some groups require the city, state, country where the work was produced. Other groups require stating the camera used and some require a short story be attached to the photo.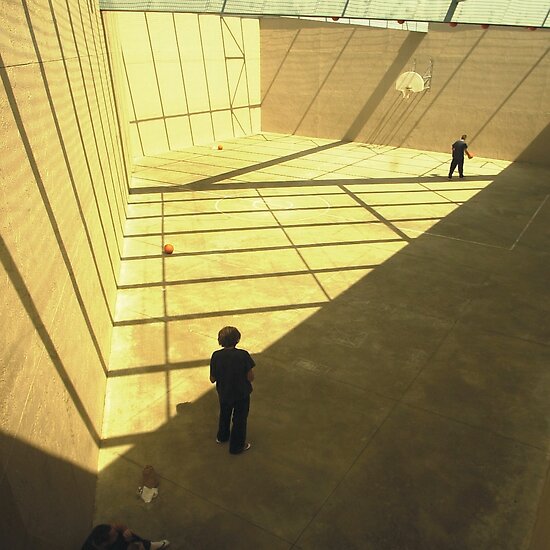 Prisoners play basketball in the recreation yard of the Brevard County jail in Mims Florida USA. overcrowding has become a real problem in local jails, allowing more recreation time for inmates frees some of them from the packed holding areas. This 2004 image was shot through the guards glassed in viewing room.
Nikon D2H 14mm lens EI200
So the most basic description should include at least a description of the viewer sees, it was made, it was made are you sharing it and . Always adding some basic camera information may be useful, explaining any special techniques or circumstances will enlighten the viewer. This description should be at the top of the page. Making a host scroll through 16 verses of prose and 5 product samples before listing the details they need to accept an image will get your image rejected from moderation.
Your short story can be humorous, or educational. Adding links to research or data regarding the subject matter can make for a more interesting description. But don't go overboard . Let your description add value to your artwork. Your writing should add value, not detract from the package.
Visit these links for more tips on writing
Wikipedia writing guidelines
Simple guidelines to faster writing
The art of writing catchy articles: 11 Simple Tips
How to start writing quality articles for blogs and article marketing
The complete beginner's guide to writing articles
Writing for your local newspaper
How to write about local events
"Writing news" was featured in TUTORIALS 4/10/10