A black and white portrait for a change; just one of those 'Shepherd Moments' that happen along the way with their amazing connection with people and intelligence.
This is 'Kim', a four year old German Shepherd; just beginning to go grey around the muzzle. In her case this was a sign that she was going to be something other than a complete ratbag that chewed everything from the shoes to the garden hose. Here she is doing a maxi head tilt to look when I spoke to her.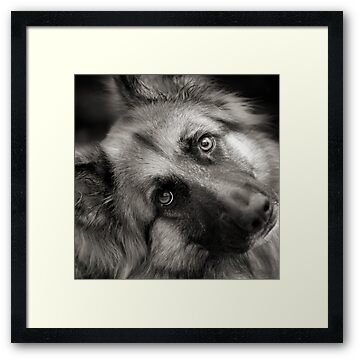 I hope you enjoy it.
Favorited by 55 kind people; thankyou!
Red Bubble Feature 19.01.2011
Featured in PETS ARE US 16.01.2011
Featured in CEE'S FUN ARTSY FRIENDS GROUP 13.01.2011
Featured in CATS AND DOGS 17.01.2011
Featured in PAWS AND CLAWS 19.01.2011
Featured in BSL WORLDWIDE TARGETED DOG BREEDS 21.01.2011
Featured in EYE CONTACT GROUP 12.03.2011
Featured in WOW Group 16.05.2011