Please click on image to see a larger version.
Originally named Castle Forks, then Chloride, Ashcroft, Colorado was founded around 1880 when placer deposits were found in the Castle Creek Valley near Aspen, Colorado. There was such a boom that three years later there were 2500 residents, two newspapers, a school, two sawmills, and 20 saloons. The town soon dwindled as the mines played out and the nearby Aspen load was located. By 1900, there were only two people left. Under the direction of Ramona Markalunas, Ashcroft became a National Register Historic Site, and the Aspen Historical Society received the first U.S. Forest Service permit ever granted to a historical society to preserve and interpret a ghost town.
"Today, Ashcroft (from the Aspen Historical Society website) is one of the most well–preserved ghost towns in the country. Of the fifteen buildings in the townsite, twelve are original, and ten are in their original locations. The three unoriginal buildings, the blacksmith's shop, the mercantile store, and the assay office, are transplants from Woods Lake. A resort/dude ranch built in the 20th century, Woods Lake is now a private retreat for celebrity types. All the buildings in the town have been restored. All the roofs are new (or less than 15 years old). That is why you don't see any stove pipe holes. The hotel, Blue Mirror Saloon, and the Poet's Cabin have been extensively restored."
Ashcroft Ghost Town
Colorado
United States
The photo was made using a Canon EOS 50D digital body, EF 24mm f/1.4L lens (or full frame equivalent of 38mm), at f/13 for 1/15 second at 100 ISO.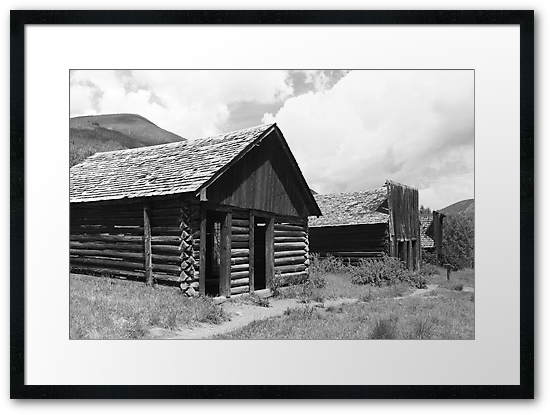 Poster: