Please click on image to see a larger version.
This image shows one of many gorgeous views from Highway 62, just west of Ridgway, Colorado. In large part this is the Sneffels Range, an east/west sub–range in, and the northernmost extent of, the San Juan Mountains in the southwestern corner of the state. For many people – especially those who come south and west from Montrose and all other parts of the state – this is often their first view of these glorious peaks. And when you do see them, it is a sight to behold – and one you never forget. I love the dusky gold colors in this one. From left to right, the mountains are: Whitehouse Mountain, Mount Ridgway, Teakettle Mountain, Potosi Peak, Cirque Mountain, Kismet (all 13ers), and the great lady herself, Mount Sneffels, who tops out at 14,150 feet.
Sneffels Range
San Juan Mountains
Colorado
United States
The photo was made using a Canon EOS 50D digital body, an EF 50mm f/2.5 compact macro lens (or full frame equivalent of 80mm), at f/25 for 1/5 second at 100 ISO.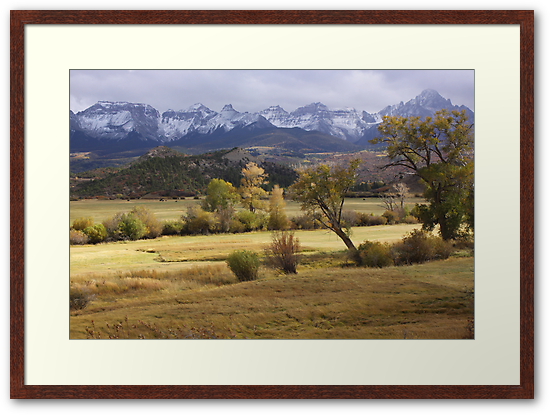 Poster: