Please click on image to see a larger version.
This image from Dream Lake in Rocky Mountain National Park was captured at daybreak, with the iconic view of Hallett Peak on the left (south), and the craggy southeast face of Flattop Mountain on the right. Well below the saddle between the two mountains, and up in the next basin you see, is Emerald Lake – a lake with an entirely different personality.
The photo was made right after an overnight early–season snowfall in late September. Note the first tentative sunbeams of light dancing on the landscape as the storm slowly cleared, and the touch of blue sky that suddenly appeared above this most sublime part of the Continental Divide. The silence of the soft, unfrozen lake that morning contrasted eerily with the swirling winds above.
You're at ten thousand feet and up here, so this can be an unforgiving place, with long brutal winters and raging winds that can last for days. But not for this moment. To have been up there alone, as I was that morning – with only a pair of human eyes and a camera that could never hope to faithfully record the scene in all its glory – was to stand in awe in one of nature's grand cathedrals.
I think of that moment, this scene, as a gift. Whether from God, from the Creator, from Providence, or from random circumstances or benevolent dumb luck, it's a gift I'll cherish for the rest of my life. Flannery O'Connor was right: everything that rises does converge. May you, dear reader, have many such gifts, and dream dreams of light that is all your own. Thanks for looking.
Dream Lake (elevation 9,905 ft / 3,019 m)
Hallett Peak (elevation 12,713 ft / 3,875 m)
Rocky Mountain National Park
Colorado
United States
The photo was made using a Canon EOS-1V body, an EF 50mm 1.4 lens, and Fuji Velvia 50 film.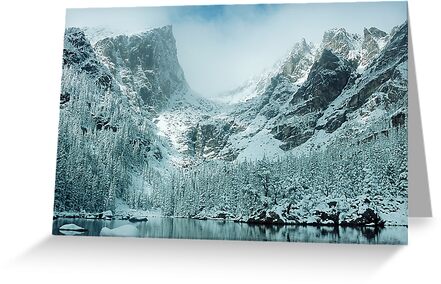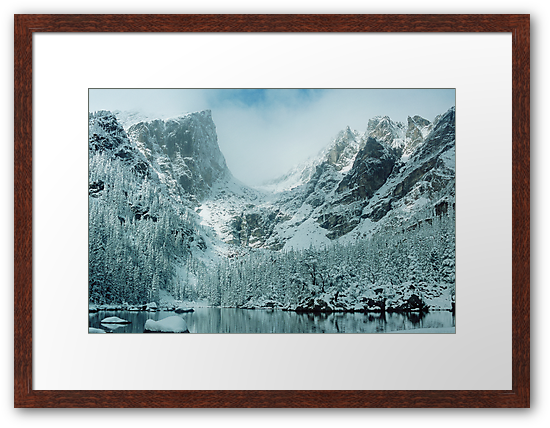 Poster: