This is a closeup of my American Pit Bull Terrier Rose's new puppies born on 6-2-11 and shown here at 1 precious day old.
They were born via a C-Section at the vet, and are the 4 who were able to be brought around out of 6.
We have 2 boys and 2 girls. From left to right are:
Tim (short for Tiny Tim – the little one) – Laurie (named after my friend on RB – Laurie Minor :)) ) – Steve (named after Laurie's husband who is just the sweetest man) – and Gabbie (named after my friend on RB gabbielizzie). They are all special and needed very special names. :))
You will be seeing much more of them. :))
Taken in my home in Amherst, Virginia with my Canon Powershot SX110 IS
FEATURED IN PLAYFUL PHOTOGENIC ANIMALS
FEATURED IN CUTE MUTTS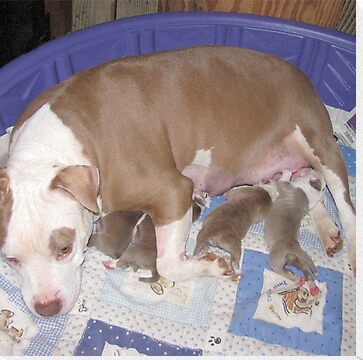 Rose with her new babies. She is an excellent Mom.