FEATURED IN THE WORLD AS WE SEE IT
FEATURED IN OUR K9 FRIEND
FEATURED IN THE APBT LOVERS GROUP
FEATURED IN TENACIOUS TERRIERS
FEATURED IN RESPECTFUL TERRIER & RETRIEVERS
FEATURED IN LOVE THESE CREATURES
FEATURED IN DOGS OF ANY BREED
RB EXPLORE PAGE – FEATURED PHOTOGRAPHY 5-31-13
TOP 10 PLACEMENTS:
Pull The Strings Of Your Heart Challenge – Respectful Terrier & Retrievers
Invite Only August Challenge – Respectful Terrier & Retrievers
901 views as of 5-30-13
These are my 2 American Pit Bull Terrier puppies…Dream on the left and Wonder on the right…..(6-28-10) from my male Buster and my beautiful female Lilac who unfortunately lost a battle to cancer when these little guys were just 3 1/2 weeks old. They were bottle fed from 3 days old. Here they are just 6 weeks old today.
Little Dream became very ill on 6-16-10 ( just 4 weeks and 2 days old) and was taken to the Vet with a temperature of 98.6 and was turning blue. She was put on IV's and was severly dehydrated. She had begun to vomit and had bad diarrhea while Wonder had not started to vomit yet. I immediately put them both on an injectable antibotic. It worked for Wonder…..but little Dream was going downhill. I was devistated. I visited at least once a day and sometimes twice. It seemed to me that she was staying too dehydrated…so being me…I kept asking them to give her more fluids. They said they didn't want to drown her, which to me sounded crazy. She was dehydrated. Two times she looked hydrated to me….. and then she would be tacky again. She could not keep anything down and was really not interested in eating or drinking. Needless to say, I didn't get much sleep while she was at the Vet.
On the 21st I called in the morning and asked how she was doing. They said not good and that she was bleeding from the mouth. I can't even begin to tell you how that felt. So I got in the car and went over as fast as I could. They had no hope for her. So I had them take her IV's out…give me the meds and some fluids for under the skin and told them that if she was going to die it would be at home where she belonged.
As soon as I got her home, I put 70 cc's of fluids under her skin. She weighed 3 pounds. I did the same again that night, since her poor little body had absorbed it. She had one little spot of blood come from just one tiny spot on the side of her mouth, and after that…there was no more.
I made her a comfy little spot in my computer room with her stuffies and she mostly just laid in there looking sad. Then that night, she got up and walked across the papered floor and went potty on the paper! Both! I never knew how a normal looking doggie doo could look so good. Then she went back in the stuffies and went to sleep.
Next morning I gave the 70 cc's of fluids again. I had just fed Wonder and she must have smelled the food on my hands and she looked hungry…so I got her some yogurt and baby food mixed together and fed her slow with the syringe. It was like she was starving…which she was…so I had to limit the amount. The biggest problem was keeping it down. She wasn't really vomiting….but spitting alot of it up and it was just coming out. I called the pharmacist at my CVS and asked him what they gave to babies who couldn't hold food down…and he recommended something they give to babies who have colic. So then I gave her some of that before and after she ate. After a few days…I am so happy to say that she stopped spitting up and everything was staying down. Her temperature was going up too. And she visited with Wonder and tried to shake her up! What a little trooper!!
And so here she is now just 8 days later with her sister Wonder. A bit smaller….but doing just fine.
These two little girls will be staying with me. :))
I have included some images of her day to day progress below.
Thanks to everyone who knew what she was going through and prayed for her. God bless you all. :))
Dream on her first day home from the Vet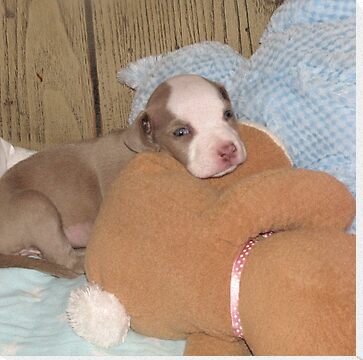 Dream on her second day home from the Vet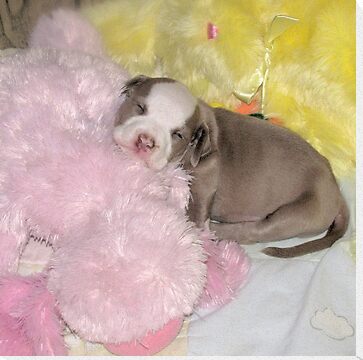 Dream – third day home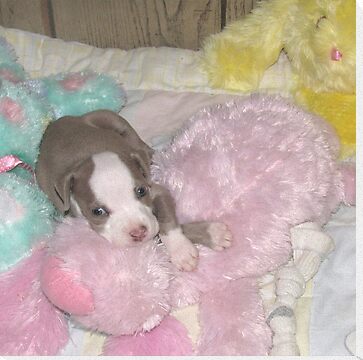 Dream – fourth day home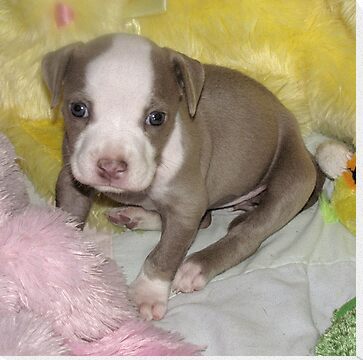 Dream – fifth day home and feeling better. Trying to chew a cow hoof! :))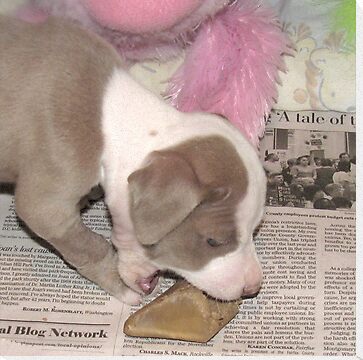 The following 3 images are on days 6 and 7, when Dream started to feel better and wanted to play with her sister Wonder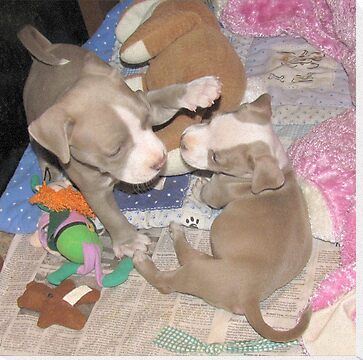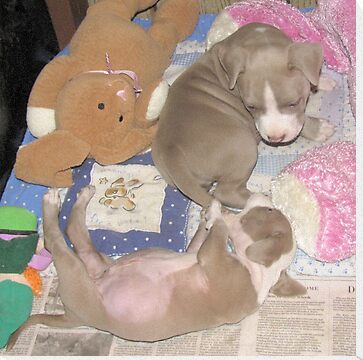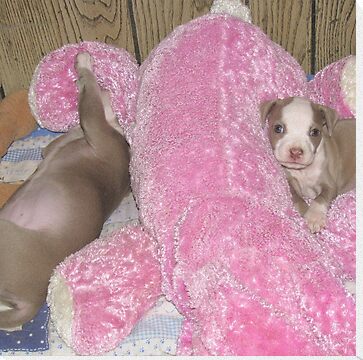 PS I forgot to mention that little Dream had exploratory surgery her 1st day at the Vet to check for a twisted intestine. You can see her scar in the next to the last picture….and where she had been shaved. Now that is one puppy with a will to live. :))
All photos here were taken in my home in Amherst, Virginia, USA, with my Canon Powershot SX110 IS.
UPDATE – I'm happy to say that Dream (and Wonder) are still here with me today (5-30-13). Dream is doing great and was a mother of 8 last July 12th, 2012. See her with her babies HERE. :))