This is a picture I took a few years ago of my beautiful American Pit Bull Terrier Penny. Here she is shown at age12 in her wheel cart, in my yard in Amherst, Virginia, USA.
Dedicated to all those wonderful animals who have made a impact in our lives.
Penny was a puppy that I bred and was born in my house. She was always a special girl. She grew a little tall and lanky for a while, and back then I was showing dogs in the UKC (United Kennel Club). I didn't think she would do too much at a show…but I brought her to her first show as a puppy just for fun and she took Best Puppy! She stood like a true champion for the Judge. I was so proud of her. She went on to become a UKC Champion. She loved to go to the river and swim. She liked to splash as she jumped in most of all, and would jump in and out most of the time we were there. Such a silly girl. At home she loved to chase the ball and just about fly in mid air and most every time catch it like a pro and bring it back wagging her tail happily and wait for you to throw it again. Over and over. She just never seemed to run out of energy.
CH 'PR' York's See A Penny
This is a shot I took of Penny at a show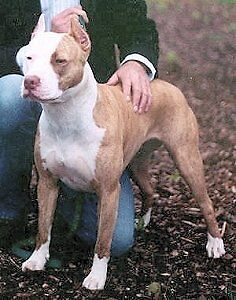 At age 10 one day she fell over in the front yard and couldn't get up. It was horrible. She went off to the University for just about every test that could be done to see what could be wrong. Nothing really showed up and the best they could tell me was that she had had what is called an embolism..and most likely a small piece of cartilidge or bone had broken free and lodged in her spine and she couldn't walk. I was devistated. I went to get her at the University and she seemed quite depressed. Myself and Victor (the person I live with) were showed how to walk her with a towel under her to hold her up while she moved with her two front legs. We toweled her out to potty and then to the car to take the ride home.
Well I brought her ball with me…which she had always loved…and as we started down the road I took it out and showed it to her. Her ears perked up and a light came in her eyes. So I threw the ball right at her…and she lifted her body up a bit and caught it!!! Her tail did an ever so slight wag. It was then that I knew she wanted to live. So as soon as I got home I called the doggie cart place and ordered the cart. It took about a week to get here. In the mean time as we toweled her out…she tried to run with us. :)) Such a tuffie. And every day she went to Hardee's for a bowl of vanilla ice cream in the car. She loved that. :))
The cart arrived…and as soon as she got strapped in and I put her leash on and walked her a few feet…she realized that now she could go…so I unhooked the leash and off she went all over the front yard. If you took her ball or her tire…another very favorite toy…she would run you over trying to get it!! Such spirit.
Her embolism happened and age 10 and we lost her at age 13 due to an enlarged heart that began to press against her lungs.She had a wonderful life and a true enduring spirit. She was put to sleep humanely at the Vet before she began to suffer. I told her she was going to the Rainbow Bridge where she could run free again and fly through the sky and I would see her again one day on the other side.
This is a dog who truly made a huge difference in my life and my outlook on it.

Canon Powershot SX110 IS
5837 Views as of 7-13-13
31 favorites
FEATURED IN PAWS N CLAWS
FEATURED IN THE APBT LOVERS GROUP
FEATURED IN PHODOGRAPHY
FEATURED IN MUTTS
FEATURED IN THE WORLD AS WE SEE IT
FEATURED IN DISABLED PEOPLE AND ANIMALS
FEATURED IN THE CHALLENGE CORNER
FEATURED IN THE EMOTIONAL CONNECTION TO PHOTOGRAPHY
FEATURED IN IMAGE WRITING
FEATURED IN SPECIAL OCCASIONS
FEATURED IN DOGS OF ANY BREED
FEATURED IN TELL YOUR PHOTO STORY
CHALLENGE WINS:
My Old Friend Challenge – All Soft And Cuddlies
I Miss You Challenge – Paws N Claws
Cooper's Challenge – Story Time – Phodography
TOP 10 PLACEMENTS
What Makes You Cry Challenge – in Mood & Ambience
Thought Provoking Challenge – Love Affair With The Lens
March Challenge Winner>>>Invite Only – Paws N Claws
Unusual Transportation Challenge – The World As We See It, or as we missed it
Show Us Your Fav Image Challenge – Disabled People And Animals
I Miss You Challenge – The True Beauty Group
Our Wonderful Animal Friends Challenge – Just For You – Dedications