The Black King-Bishop's Pawn
Artist: Simon Sherry
Biography: Danny
The right side of the Shaman's brain, the masculine, is represented by things more natural and organic.
In any effective army, the most efficient use of resources will always provide a distinct advantage. Knowing this, the King's Shaman often recycles a variety of waste products including Bullrock droppings and the remains of the vanquished, and sends them back into the battlefield in a multitude of forms.
While on the whole less effective on the battlefield due to their lumbering pace and ramshackle physiology, these muck golems serve a purpose both as expendable cannon fodder and biological weapon. More often than not, those who have met their end while fighting the Shaman's foot-soldiers are smothered and engulfed as opposed to being beaten in combat.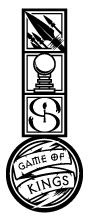 :