DEFINATELY BEST VIEWED LARGE
RED BUBBLE HOME PAGE FEATURE 24/09/2009
Special Moments.
This was a special moment not only for me but for millions of people in Australia on 23rd September 2009. This was the day the world (well our part of the world) turned orange. This is a day I will never forget and looking at it to this day still evokes strong emotions and shivers down my spine.
This photograph has NOT been edited or cropped or altered in ANY way.
Dust Storm over NSW. This was taken early in the morning at Bolton Point, Lake Macquarie about 7:30am 23rd September 2009.
Featured in Newcastle Herald 24th September 2009.
Sony A200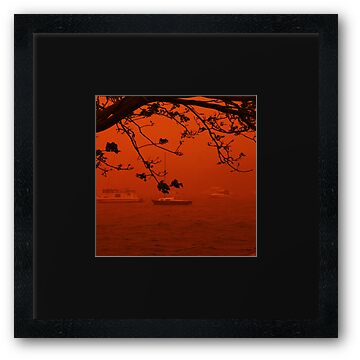 In 2009, a dust storm swept across the Australian states of New South Wales and Queensland from 22 to 24 September.
On 23 September, the dust plume measured more than 500 kilometres (310 mi) in width and 1,000 kilometres (620 mi) in length and covered dozens of towns and cities in two states. By 24 September, analysis using MODIS at NASA measured the distance from the northern edge at Cape York to the southern edge of the plume to be 3,450 km. Air particle concentration levels reached 15,400 micrograms per cubic metre of air. Normal days register up to 20 micrograms and bushfires generate 500 micrograms. This concentration of dust broke records in many towns and cities. The CSIRO estimated that the storm carried some 16 million tonnes of dust from the deserts of Central Australia, and during the peak of the storm, the Australian continent was estimated to be losing 75,000 tonnes of dust per hour off the NSW coast north of Sydney.
While the cloud was visible from space, on the ground the intense red-orange colour and drop in temperature drew comparisons with nuclear winter, Armageddon, and the planet Mars. The dust storm was described by the Bureau of Meteorology as a "pretty incredible event" that was the worst in the state of New South Wales in nearly 70 years. The phenomenon was reported around the world. The Weather Channel's Richard Whitaker said: "This is unprecedented. We are seeing earth, wind and fire together".
Some of the thousands of tons of dirt and soil lifted in the dust storm were dumped in Sydney Harbour and the Tasman Sea. This increased the nitrogen and phosphate levels in the water significantly. Measurements taken two weeks after the event indicated an explosion of microscopic plant life which can be expected lead to an increase in fish numbers.
Information from Wikipedia