I've worked on this piece for some time, previously with another model, in another position. It sat for months. Finally, during the build-up to SoJie 7, I was inspired to work on it again, not quite starting over, but hesitantly adding my own image in here.
The dragonfly seems to be whispering something to me, as its hands are near my lips. The swarm of dragonflies seem to be invested in the scene somehow. Their repetition is a design idiom borrowed from surrealism, especially as it's applied in digital art, where a repeated object is used to emphasize the message.
In this case, I'm not sure what the message is. Since the dragonfly symbolizes both change, and the subconscious mind and dreamworld, itself, I haven't yet determined its deeper meaning. Maybe your thoughts will reveal it to me.
The dragonfly chapel is submerged. Water is symbolic of the spirit, and is where dragonflies live.
---
Digital Mixed Medium Fine Art by F. A. Moore, Sep 27 2010
Style: Surreal, Art Nouveau influence
5000 × 5000 pixels @280ppi
Corel Painter/E4, PS/E 6, Mac
RE: mixed medium- scanned photography (portrait of the artist), digital painting under and over digital paintings of photo references, and manipulated images.
Special thanks to stock providers for images that were manipulated or referenced and integrated into the composition:
Cathedral– uttermost, Forest– wyldraven, Dragonfly– idnurse41, Water– b-squared stock
2011-08-22 "RedBubble Home Page":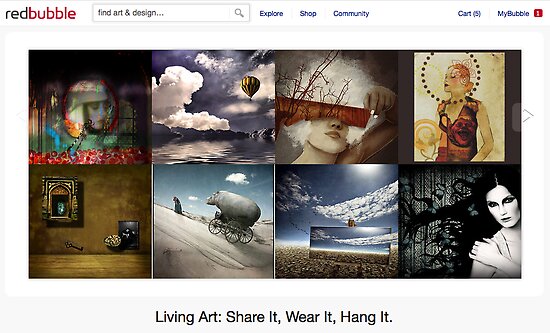 2010-09-28 Chapel of the Dragonfly in Surrealism
---
---