New American Landscape
Gargoyles ugly, dark, and looming;
Overlook the erstwhile blooming landscape,
desolate now, but fresh in memory.
Giants in the garden Eden.
Gothic, no, Americana, barely eaten;
Taken by surprise and sorely beaten shed
no tear, for fear of giants.
Giants in the garden Eden.
Whilst whole countries stand by watching;
Giants o'er their landscape trodding, claiming
grain and livestock pools from nature.
Giants shade the garden Eden.
A single voice wails mad with fury;
Counts backwards, bent, and bleary-eyed;
And yells, "You don't own nature"!
Giants left the garden Eden.
- F.A. Moore
---
Digital Fine Art: oil painting style, by F.A. Moore, June 30, 2009
PS/E 1/Mac
Special thanks to stock providers who provided images that helped inspire and enable this creation: ITOL-stock, TudorxRose, CAStock, FantasyStock, foxstox; and for reference: Katanaz-stock and SweetTradeStock.
---

Corporations are decimating the fabric of natural resources by patenting the genes of attributes already present in nature, in the wild. Please see companion Journal entry and 100% detail images below

2012-10-14 New American Landscape in Southern United States Artists
2009-07-20 New American Landscape by Beige is Death!
2009-07-04 New American Landscape in Digital Artists United
2009-07-04 New American Landscape in Core [C.O.R.E]
2009-07-04 New American Landscape in Politics, Race, Sexuality and Culture
2009-07-04 New American Landscape in Current Issues
2009-07-03 New American Landscape in Digital Art Compilations
2009-07-02 New American Landscape in Freedom in Words and ART
---

New American Landscape
by F.A. Moore
Art Print
See also companion in series, "Rural Landscape"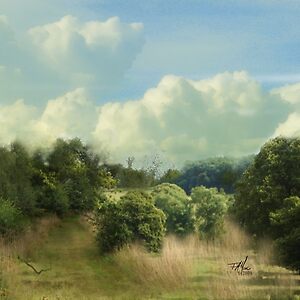 Rural Landscape (currently marked "private")

Farmer detail

Farmer's wife detail

Landscape detail

Gargoyle arm detail