Pictorial Map to Your Rearranged MyBubble Page
How to find some "MyBubble" things on the
new 2012 Release of RedBubble
updated Aug 18, 2012

Here's a quick pictorial map to some of the most commonly accessed "mybubble" features.
The mybubble page now has the simple address of redbubble.com, once you log in.
It is similar to the home page, but all of your "mybubble" features show up, when you are logged in.
So where is everything? Not to worry… it's pretty much all here. Check out the illustrations below.
Q 1: Where are all of my activity feeds?
A 1: Click the RB logo, on any page in the site, to go HOME.

---
Q 2: How do I see new Comments on my work?
Q 3: How do I see Followed Artists' new works?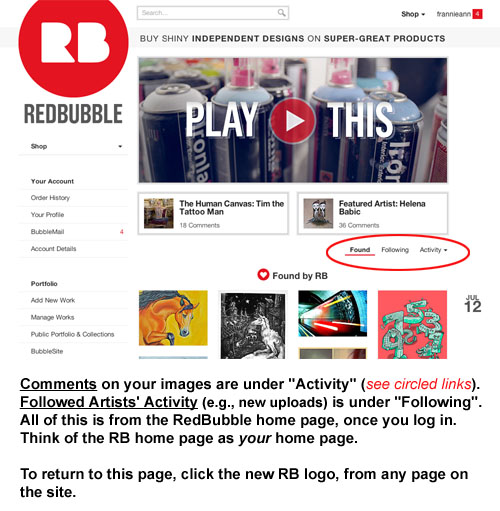 Illus 2: On the new HOME page, click the Activity or Following link
in the link menu above the image tiles. In the Activity list, you will see
comments. In the Following list, you will see new works.
Update #1 – June 13, 2012
Clicking your name, top right, now goes straight to your PROFILE, rather than the Home page. Click the RB logo to go HOME.
Update #2 – June 17, 2012
Clicking your name, top right, now goes straight to your HOME, rather than the Profile page. Eeeks! Make up your mind, designers, please!
Update #3 – August 15, 2012
The line of links— "Found", "Followed", and "Activity" are now STICKY.
What this means to you, is that if you click on your Activity Feed, as many, if not most of us do, regularly, the next time you come back to this HOME page, you will see the Activity Feed. Sticky also means that if you click on something else, you will see that page each time you return "Home", until you click on a different one. This is the way navigation for the member section should be. I applaud RB for the update to this area. Fantastic. "Found" is the default. So if you ever log out and delete your cookies, when you log back in, you will see the default. Of course, as soon as you click on Activity, that sticks, until you change it.
A 2: COMMENTS.
Click "Activity" to see the following menu options. Notice Comments.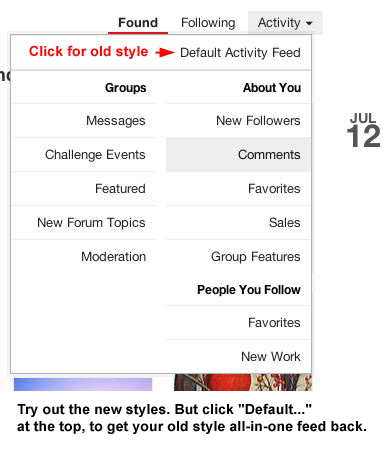 illus: comments are a submenu option under Activity
A 3: NEW WORKS OF FOLLOWED ARTISTS.
Click "Following" to see new works and change settings.


illus: settings for follow feeds are changed via the familiar cog (or gear) icon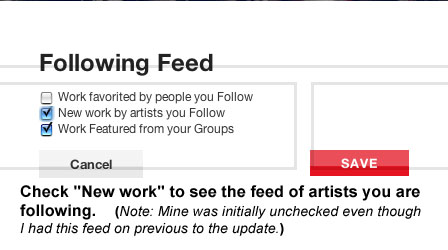 illus: settings panel for Follow feeds
Q 4: Where are my Watched Topics listed? and
Q 5: My Forums are blank, where are they all?
A 4: Toggle Forums open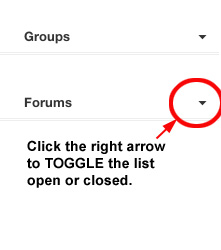 illus: toggle the forum feed open or closed, with the arrow to its right
A 5: Watched Forums List
Once Forums is toggled open you will see a list.
It is now sorted from oldest to newest.
If you have an extremely long list of watched topics, you will have a "Show All" link below the list. Click it to see more.
If you have no NEW posts to a watched topic, you will not see the topic listed at all.
If you have no NEW posts for all watched topics, you will see a message about no new posts.
Due to the sort order, because the newest activity is at the bottom*, you will need to click "Show All" on a , to see recent activity. As noted this link only appears if the list is very long.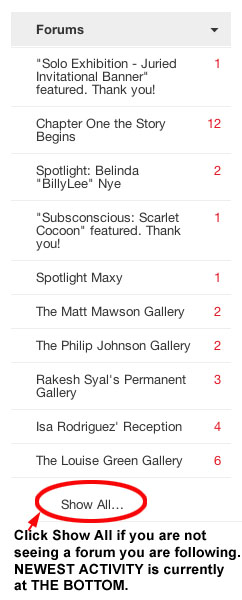 illus: recent activity is unfortunately at the bottom; If you have a long list, and Show All appears, click it to see the newest topics with new posts.
UPDATE: Aug. 8, 2012. Below your your watched topics list, where each has new posts noted in red, there is now a link to "All Followed Topics", where you can see the topics which do not have new posts also, and thus get back to a link to create a post! Thanks RB!
In the same update, there is a link below that for "RB Forums". These are the general site-wide community discussion forums.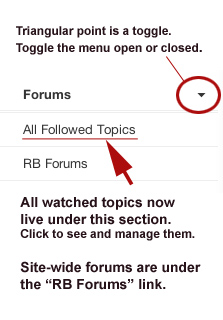 illus. Follow watched topics, even if there are no new messages.
The "All Followed Topics" actually is a watched-topics manager! You will find a typical, paginated list of topics. Not only are they linked, but you can simply click the "stop following" button, inside the topic manager. This beats the old way of going to the topic to click the stop follow link. Faster, easier.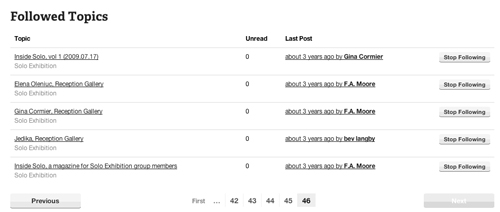 illus. paginated followed-topics manager.