RedBubble Profile and Collections Tutorial - Part II
REDBUBBLE PROFILE & COLLECTIONS – Part II
EDITING YOUR PROFILE PAGE and
COLLECTION ACCESS POINTS
AS OF MARCH 16, 2011
See also: REDBUBBLE COLLECTIONS – Part I – CONTROL IMAGE DISPLAY (961 views, 141 favorites)
. RedBubble Group "Collections" gave RedBubble artists a new way to organize the display of images on the profile page.
Two weeks later, there are new, more accessible ways to get to the display settings, and control what displays on your profile page.
This tutorial covers:
a) portfolio display options,
b) profile display options
c) collection-accessible editing
PORTFOLIO DISPLAY OPTIONS
On your "portfolio" page, click the red EDIT button on the right top of the page (Fig. A1).
Click Display Settings to see new options (Fig. A2). They are:
a) default sort for your portfolio: Recent, Top Selling, All Time Popular (Fig. A3)
b) option for your Collections to display at the top of your portfolio (Fig. A4)
The current default for collections to display on your portfolio page is YES, checked.
Uncheck the box to display it only on your home page.
(see also my journal: Dreams for Custom Portfolio sort – Dead.)
Fig. A1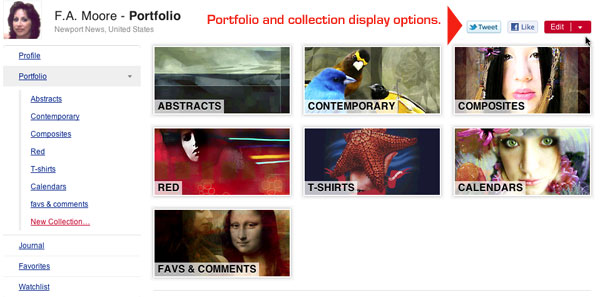 MORE PROFILE PAGE OPTIONS
On your "profile" page (also known as overview or home page), click the red EDIT button on the right top of the page (Fig. B1).
Click the new "Display Settings" to see new options (Fig. B2). They are:
a) Show age and/or location (Fig. B3)
b) Show Recent works (Fig. B4)
Recent works are all recent works combined: tees, calendars, art/photography
By default, it shows in the right column of your home page, below your collections.
The current default is to display Recent works on your profile.
TIP: "Recent" currently mixes art, t-shirts, and calendars. If this is not what you want, then select
"Don't Show" from the drop down menu, and create your own "Recent" table on the left side.
You can do this by setting 3 linked thumbnail images side by side. (see B5)
| | |
| --- | --- |
| Fig. B1 | Fig. B2 |
| | |
| | |
| --- | --- |
| Fig. B3 | Fig. B4 |
| | |
Fig. B5 Results. "Recent" removed. Custom Recent, added to left column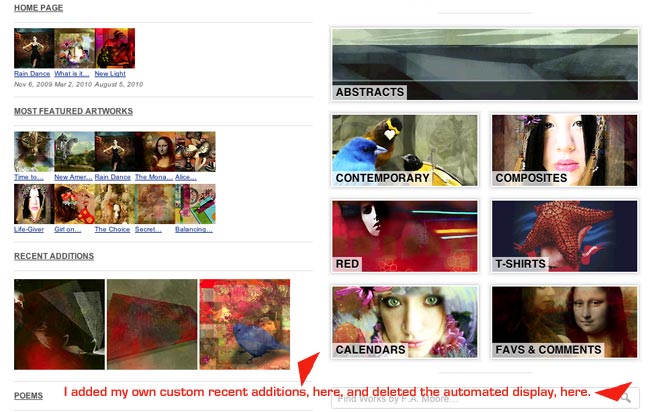 COLLECTIONS- ACCESSIBLE EDITING
Collection settings are accessible on the profile page by hovering over the collection and clicking the gear (see Part I of the tutorial)
From the Collection's page, click on the top, red "Edit" menu (Figs. C1, C2)
Delete Collection is also an option under the Edit menu. (Fig. C3)
| | |
| --- | --- |
| Fig. C1 | Fig. C2 |
| | |
Fig. C3 Delete the collection from the same Collections Edit menu


REDBUBBLE COLLECTIONS – Part I – CONTROL IMAGE DISPLAY is an illustrated guide to creating, sorting, deleting, and setting preferences for Collections.
REDBUBBLE PROFILE & COLLECTIONS – Part II – EDITING YOUR PROFILE PAGE and COLLECTION ACCESS POINTS shows you new ways to control the profile display of "Recent" works, "Collections", and set the default sort order for your entire profile.