Redbubble Collections Tutorial
REDBUBBLE COLLECTIONS
CONTROL IMAGE DISPLAY
AS OF MARCH 1, 2011
. RedBubble Group "collections" is a new way to organize the display of your images from your profile and portfolio. Via the collections app, you can now group, sort, and determine the style of display of your portfolio.
RedBubble collections is an intuitive app within RedBubble, allowing artists to take back control of their image display.
Start by clicking on the collections link, currently at the top of your profile page. The location may change later. There's a short movie clip that demonstrates the ease of dragging and dropping images from your portfolio onto named collection links. Below the movie clip is the magic link to get started. Click it.
Add a new collection. Keep the name short! (see Fig. A1, A2)
Drag and drop images onto one or more collections (see Fig. A3)
Sort images in each group by simple drag-n-drop.
Sort collection order by hovering a collection in the list, and dragging the red box that appears beside it, up or down. (see Fig. C1 – C3)
Your profile page now sports image links to your collections.
Hopefully the title tag overlays will be made semi-transparent. Currently they are large.
Thus the caution for short names. (see final result, Fig. B10)
Delete a collection by clicking the red Edit button on the far right side of the collection's page. Then hit the delete link in the menu. (see Fig. D1)
(Tip from Joanne Bradley)
---
NOTE: I WILL BE UPDATING THIS JOURNAL TO INCLUDE THE NEW EDITING FUNCTIONS IN PLACE AS OF TODAY, MAR 16TH, 2011.
Please watch for it.
---
SETTINGS – NOW FOR THE FUN PART
Click "overview" to get back to your profile ("home page").
Hover your favorite collection and click the up arrow to display the first six images of that collection on your home page. (see Fig. B1)
While hovering over any collection on your home page, click the gear icon to set display preferences for that particular collection. (see Fig. B2)
Use the ORDER drop down menu to select your custom sort order, or one of the standard RedBubble options: recent, top-selling, popular. (see Fig. B3)
Use the THUMBS drop down menu to set the style of image that visitors will see when they click on the collection. This includes the standard thumbs, plus all of the sales formats, from cards, to canvas prints, to T-shirts, and more. (see Fig. B4, and examples in B8 and B9)
Use the COVER menu to select an image to represent the collection on your home page. (see Fig. B5 and B6)
Once in the collection, edit the collection title and subtitle from input fields at the top of the page. (see Fig. B7)
An example result is illustrated in Fig. B10
| | | |
| --- | --- | --- |
| Fig. A1 – Add new collection | Fig. A2 – Name the collection | Fig. A3 – Drag images onto collection |
| | | |

work with each collection's settings from your profile/home page
Fig. B1 – Display images from your preferred collection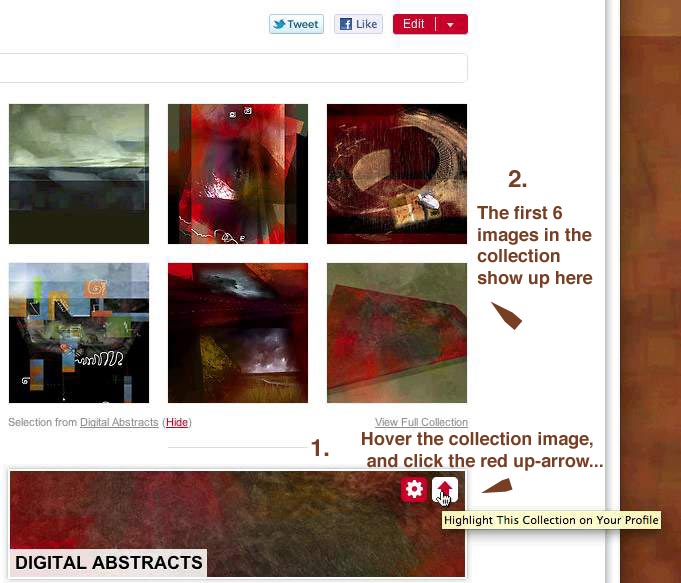 Fig. B2 – Set display option preferences

| | | |
| --- | --- | --- |
| Fig. B3 – Set Image Sort Order | Fig. B4 – Set Image Display Style | Fig. B5 – Set Cover Image |
| | | |
| | |
| --- | --- |
| Fig. B6 – New Collection Cover | Fig. B7 – Edit Collection title and subtitle |
| | |
| | |
| --- | --- |
| Fig. B8 – Example – Framed Print Style | Fig. B9 -Example – Framed Print Display |
| | |
Fig. B10 – Results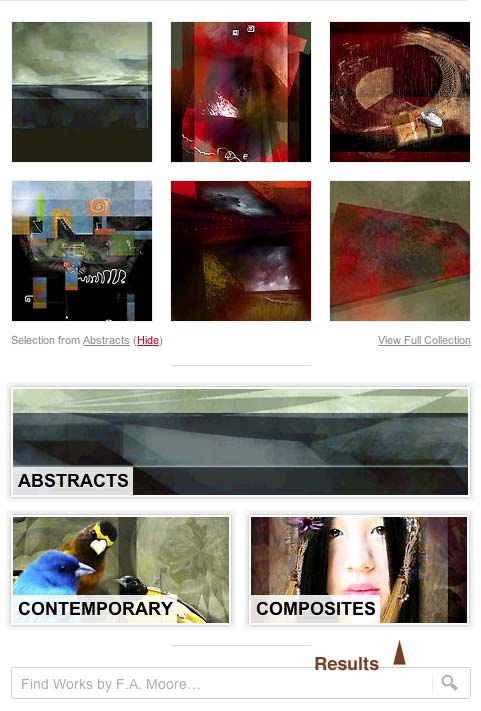 Sorting your collection order – done from your portfolio page
Fig. C1 Hover a collection title that you wish to move. A red box with a double-ended arrow appears on its right.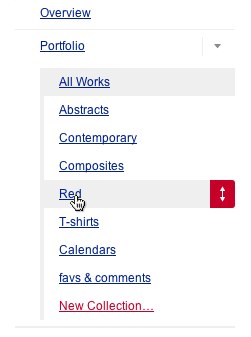 In this example, I will move the collection, named "Red".
"Red" currently resides just above "T-shirts".
Fig. C2 Hold your mouse down on the red box and drag it up or down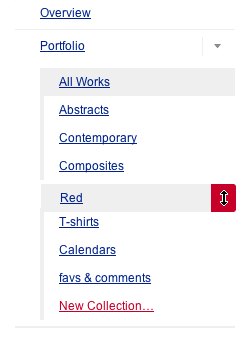 My mouse is pressed and held down on the red box, and I'm ready to drag it.
Fig. C3 Drop it where you want it. Repeat with other collections.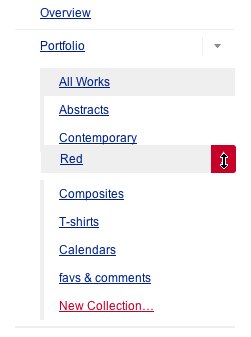 In the example, you see "Red" is now above "Composites", captured in-process.
Fig. D1 Delete a collection


Here, I am going through the motions to delete a collection, which I had named "Calendars". Understand that this is not the RedBubble Calendars link, but a separate "collection" into which I had dragged my latest calendars.