Product BULK Editing Explained
I expect that by now, many of you are aware of the Product Availability button and how it acts as a bulk enable or disable for products (which are enabled by default).
But some are not aware of this feature, and some are not so sure about it.
Here's a quick, illustrated HOW-TO a product ; and how to add that same product back to one or more images, at your own discretion.
Everything in red, including the red bars with white typing are my Notes. They do not appear in the tool :)
1. Find the button, "Product Availability" at the top of Manage Works

2. Select the product that you want to disable.
This action must be done one product at a time. 3. Submit to "Enable" or "Disable" across all your portfolio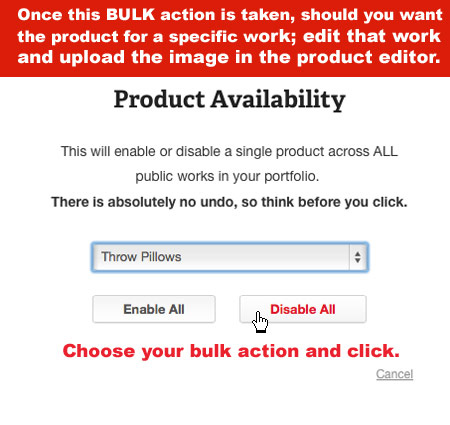 ---
That's it! Now to enable that same product on just one or two works, simply go into the editor for the work, select the product group, pursuant to the instructions in my Tutorial on Product Group Editing and Select Tabs Explained and enable the product there. You may need to upload or replace the image for that product group.