Tote Bags available on Easy Button
Announcement
June 3, 2014
NEW. Tote Bag Option on Easy Button.
The Tote Bag option is now available on the Easy Button. (RB URL 2 Image Converter).
The main image is so large (1200×1200), that I opted for smaller images, similar to the "throw pillow" images.
There will be no preview and no code, if Tote Bags are not available for that particular work. Instead, an error at the top of the page will let you know that this product is not available.
-If anyone knows of the URL for an image without the peg rack, please send it to me. This is the only style of image that I uncovered.- update, Celeste got it! Thank you, Celeste.
Those of you who know and use the "Easy Button" for your own pages or for hosting, know where to find it. Enjoy the new option.
Here is a screenshot of the "Imprinted Products" section, which includes the Throw Pillows and Tote Bags. The words "medium" and "small" always indicate our image size, relative to the largest images available on RB. They do not refer to the product size.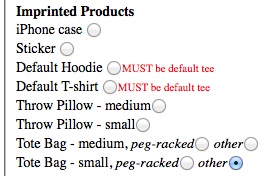 Besides image size, you can select one of two image styles for the Totes: "peg-racked" or "other". Other is simply not racked, but it also does not show the entire handle. See Examples, below for both of the styles shown as small images.
Tote – medium image, "peg-racked" style, with 1) pricing, and 2) the title and artist options checked.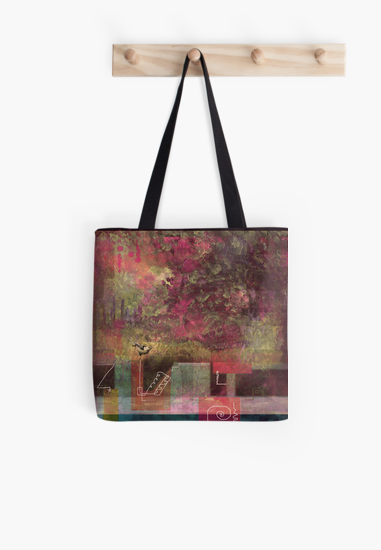 Renewal
by F.A. Moore
tote bag from only 19.55 USD
Tote – small image, Left: "peg-racked" style; Right: "other" style; both have the title and artist option checked.
---
Remember to check off the title and artist option, if you want that linked below your image. It is not added automatically. Search engines reward relevant linked text.
see also: May 2, 2014 Throw Pillow announcement