Wanderlust gets her every time….
Recognize my Gypsy Firefly?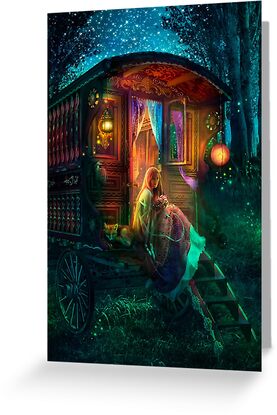 Well she's gone a little further down the road, but the starlit nights just keep following her. And guess what? If you pick up Issue 77 of Advanced Photoshop Magazine when it comes out later this fall, you'll get to read a tutorial on how this image was made! Put a watch on me so you get notified as to when that issue is for sale!
---
(wan·der·lust)
-noun
a strong, innate desire to rove or travel about.
-etymology
1902, from Ger. Wanderlust, lit. "desire for wandering"
Arabic: شَهْوَة السَّف
Chinese: 旅行癖
French: passion du voyage
Icelandic: útþrá, ferðaþrá
Japanese: 旅心
Norwegian: reiselyst
Portuguese: gosto de viajar
Russian: страсть к путешествиям
Spanish: pasión por viajar, ansia de ver mundo
Turkish: seyehat, *yolculuk tutkusu
---
Model:
Elandria=
Wagon: My photo, taken at the Castle Museum in York, England (will be available with the tutorial)
Stars: My photo, taken of the sky in my back yard! (will be available with the tutorial)
Background: (Link will be available with the tutorial)
Fox: (Will be available with the tutorial)
Lanterns: Made from scratch – a quick how-to will be with the tutorial