FEATURED ARTIST INTERVIEW from Full Frame Group
http://www.redbubble.com/groups/5d-mark-ii/foru...
PHOTO STORYBOOK from Art Universe Group
http://www.redbubble.com/groups/layered-with-te...
My car portfolio focuses on my interest in American cars built from the 1930s through the 1960s. Cars play a significant role in our history and popular culture, and I want to bring focus on that through the work I am sharing here. I set a goal in 2011 to create 100 high quality car images and to explore a variety of digital art techniques to create them. In a perfect world I would bring cars into a studio and photograph them under perfect controlled lighting, but that wouldn't be practical or cost effective. So I rely on weekend car shows and catch-as-catch-can conditions for images I can build. Through Photoshop I replace all of part of the background, clean-up unwanted reflections, shift or replace color, create blur, and add lighting and textural effects. I try to apply effects that best compliment the original image.
I did the first car back in June of 2011, and I thought it would be good to add a description that captured the car's personality or that of the person who drove it. I've never done any serious writing so initially that was challenging. But by the tenth car I realized that I was on to something unique, and what started as a few sentences turned into short stories. By this time I also realized that I was developing a style through the low angle and wide perspective in most of my images. I was intrigued by how some landscape photographers were using Zoom and Radial Blurs to create a sense of elapsed time and movement, and I liked how that worked with cars.
I've always liked the Film Noir style developed by early German-born film makers from the 1920s through the early fifties and it was a strong influence in some of my first cars in this series. I had considerable skills in Photoshop going into this venture, so I was able to do convincing color compilations with new foregrounds and backgrounds, but I didn't feel they had the uniqueness or story telling quality that I was looking for. I wanted to use color in a more expressive way and not just a literal way. Photoshop has a powerful tool called Selective Color that really enabled me in this pursuit. Now I found myself using orange skies or yellow grass to compliment the car color and change the mood.
At times I found it difficult to come up with a story line and sometimes images sat on my desktop a couple of week before I had an idea. Then something amazing happened. I noticed that some people on Red Bubble posted poetry. I think the only poem I ever wrote was in a High School English class and if I remember correctly it was an unpleasant experience. For whatever reason I decided to try it and to my amazement I not only could do it but I really enjoyed it and I've done it for every car since then. I find poetry appealing because it allows me to use creative phrases and clever word structure, and it's kind of like stringing together a lot of bits and pieces. The more I've written the easier and more fun it has become. I've never written an outline for either a poem or a short story. I just start writing and editing as I go along. I find that interesting because it's the same way I approach the image. I usually start by doing a clipping path around the car, and then I audition backgrounds or drop in color. Every action generates a reaction and eventually it comes together. Creative process is different with everyone, but for me it has a lot to do with following my instincts.
One thing I feel strongly about is that if you want to be really good at something you have to practice regularly and stay focused. By doing something 100 times I have a much better sense of how to take the photograph and all the possibilities for the outcome through editing.
Copyright Notice
All images and stories are the property of Flyrod Productions LLC and may not be used wholly or in part without the prior written permission of the copyright holder, including copying, duplicating, printing, publishing (even on a web site), reproducing, storing, or transmitting by any means what so ever.
© Flyrod 2011
All stories by Flyrod are fiction. All names resembling or similar to any person living or dead are coincidental. Stories are inspired by real as well as fictitious events, and are intended for entertainment purposes only.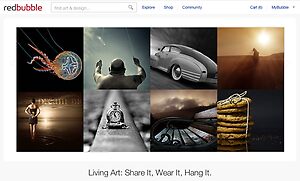 The Power of Photography – 11 October 2011
by home page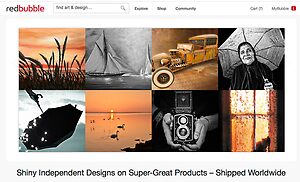 Inspired Art – 15 April 2012
by The RedBubble Homepage