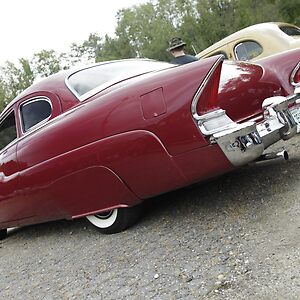 Original Image
•THE TOOLS•
Canon 5D Mark 2 with 24-105mm 1:4 lens
Mac Pro with Photoshop CS5 and Wacom tablet
•THE BARGAIN•
When souls are in limbo searching for life's meaning, and our ability to trust has been eroded, evil will make every attempt to fill the gap. It will not be rough and jagged, or unpleasing to the eye. It will not shock us or scare us in any way. It will not hurt us or cause us to be afraid. It will not have an unpleasant smell or bitter taste. It will require no physical endurance or bodily pain. No, that's not how it works.
It will be sleek and shinny, beautiful and alluring, stealthy and sexy. It will surround us in comfort, boost our confidence, and expand our horizons. We will make great sacrifices to possess it, and it will possess us. We will fuel it with toxic poisons in exchange for thrills and mobility. We will alter the landscape to give it the right of way. It will foul or air, but we will deny it. We will depend on it like a fiend and his dope.
Give me freedom, power and status all-powerful Mercury, and I will give you my soul.
•THE PROCESS•
All the skills required to create this image can be yours in exchange for your sole. Apple, Canon, and Adobe will be more than happy to make a deal with you.