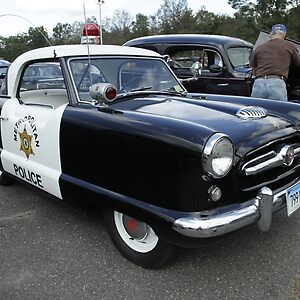 Original Image
•THE TOOLS•
Canon 5D Mark 2 with 24-105mm 1:4 lens
Mac Pro with Photoshop CS5 and Wacom tablet
•THE STORY•
Dateline Washington: The Congressional Super Committee leaked plans today to reduce the nations deficit problem by replacing all gas guzzling Police Cars with a modernized version of the Nash Metropolitan. Originally introduced in 1954, the little Metropolitan's snappy new 73 cubic inch engine will get an amazing 74 miles per gallon, a statistic that dwarfs comparison to conventional cruisers' that get just short of 15 m.p.g. with their 350 c.i. engines. A small group of congressmen raised a minor concern, suggesting that a car that took 30 seconds to go from 0-60 miles and hour would be a little slow. The Senate Transportation Committee then introduced a measure that would lower the national speed limit to 17 miles per hour so the pocket-sized Nash would have a fighting chance. The Michigan Congressional delegation was especially pleased sighting an estimated 100,000 jobs would be created as a result of the program. The Congressional Budget Office estimated an annual saving of one hundred billion dollars on gas alone.
There was jubilation on the Senate floor as a vote for final passage was about to occur. Then, at the last minute a group of lobbyists from the Oil Industry entered the chamber with what appeared to be a wheelbarrow full of cash, which they immediately distributed to the delegation. After a five-minute delay a vote was taken and the measure failed to pass. A bill to eliminate Social Security and Medicare was passed in its place.
Beep! Beep!
•THE PROCESS•
This car was shot in full sunlight on a parking lot at mid-day. The background was created from three images of city buildings and streets with a radial zoom blur applied. The car windows were recreated to marry to the overall image, and a blue Photo Filter was added.