Image taken June 09.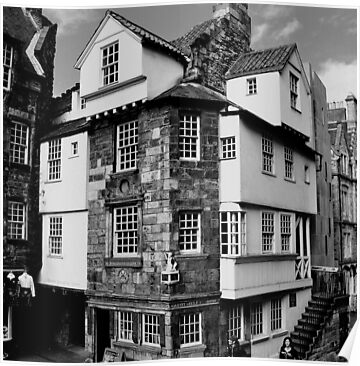 Nikon D90
Lens
AF-S DX
Nikkor 18-105mm f/3.5-5.6 G ED VR
f/3.5
1/4000 sec.
ISO-1250
+1 step
18 mm
3.6
27

John Knox House.
The John Knox House is an historic house in Edinburgh, Scotland, reputed to have been owned and lived in by Protestant Reformer John Knox during the 16th century.
The house itself was built in 1490, featuring a fine wooden gallery and hand-painted ceiling. Over the next few centuries many decorations and paintings were added, and the house and its contents are now a museum.
The original 15th century house has been largely unaltered since the 1550's when the Mosman family, Goldsmiths to Mary Queen of Scots, remodelled the house. John Knox, leader of the Scottish Reformation and founder of the Presbyterian Church, lived here for a short time before he died here in 1572.
The building is owned by the Church of Scotland and is now administered as part of the new, adjacent Scottish Storytelling Centre.
Located On the Royal Mile between Edinburgh Castle & Holyroodhouse.