Apophysis+Incendia+Photoshop+manip+3d
(more layers and painting then you can imagine …making it was a trip in it's own hahahaa.. )
A fractal manipulation inspired by "Alice in Wonderland" – Having tea at any time you feel and asking Cheshire cat to join ;) LOL
Please don't forget to join an awesome contest at Fractal Paradise Join Alice in Wonderland
Alice: You've gone quite mangy, cat… but your grin's a comfort.
Cheshire Cat: And you've picked up a bit of an attitude, still curious and willing to learn, I hope.
Cheshire Cat: Every adventure requires a first step. Trite, but true, even here.
Cheshire Cat: I'm afraid I have to expel a rather ferocious hairball. You're on your own, girl.
Cheshire Cat: Haste makes waste, so I rarely hurry. But if a ferret were about to dart up my dress, I'd run.

Featured in A Fractal a Day Keeps the Doctor Away! 03-15-2010
The close-up of the teapot (made in Incendia with painted manip in PS)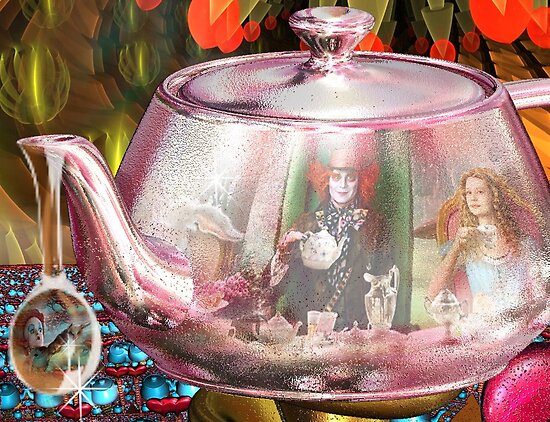 the background is made from my apo piece 'Mushrooms by candlelight'