[Photo No. F-777]
© Winston D. Munnings (Greeting Card Sample). Just the perfect vehicle for sending well wishes to that Special someone. Incidentally, this Greeting Card can also be framed.
© Winston D. Munnings (Greeting Card) From $2.49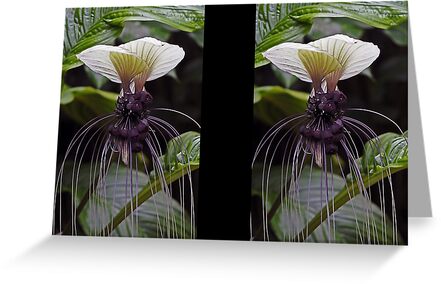 © Winston D. Munnings (Laminated Print) From $17.81
These are ideal for use as 'placemats' for tables, and they're great gift items.

The genus Tacca, which includes the Bat flowers and Arrowroot, consists of ten species of flowering plants in the order Dioscoreales, native to tropical regions of Africa, Australia, and south-eastern Asia. In older texts, the genus was treated in its own family Taccaceae, but the 2003 APG II system incorporates it into the family Dioscoreaceae. Taccaceae is native to Malaysia. Several species are cultivated as ornamental plants for their bold foliage and large flowers. The well-known T. chantrieri goes by the names of Black Bat Flower, Bat-head Lily, Devil Flower or Cat's Whiskers. Tacca integrifolia is known as the Purple or White Bat Flower. Other cultivated varieties include the Arrowroot, T. pinnatifida leontopetaloides, and T. cristata aspera.

Please feel free to _Send Me An Email if you have any questions or comments about this image. Incidentally, the information provided is courtesy of Wikipedia._
Since I do receive questions from time to time about My Camera Gear, the following apply*…*
Camera
Nikon D300 (Two Bodies) ~ Nikon D200 (Back-Up)
Lens
AF Nikon 50mm (F/1.8) ~ AF Nikon 85mm (F/1.8) ~ AF Nikon 24-70mm (F/2.8) ~ AF Nikon 80-200mm (F/2.8) ~ AF Nikon 105mm (F/2.8) Micro Lens ~ AF Nikon 200mm (F/2.8) Micro Lens ~ AF Nikon 300mm (F/4)