OK, it wasn't a coffeee bar – 'cos none of the current ones look like the old coffee bars any more – but it sure felt like one as I looked down and saw the 50's/60's style image you see here.
There were very few people in the establishment and very little noise, so the 'clunk' of the GF-1 shutter was a little alarming at such close quarters to my subject as this was.
I added a slight vignette to the finished image to concentrate the eye onto the pierced leather of the shoe.
Panasonic GF-1
M4/3 20mm f/1.7
1/250 sec @ f/1.7
ISO100 RAW
No Exp Comp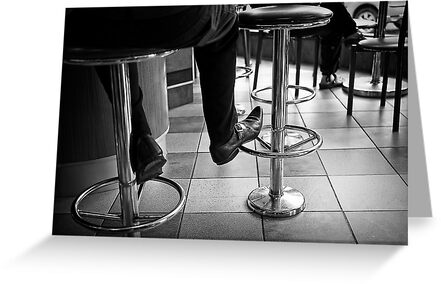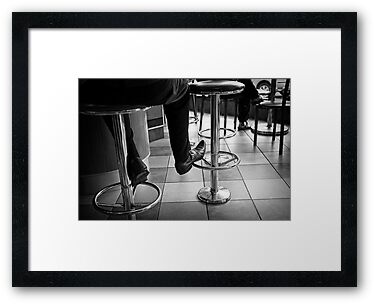 Street photography and the capturing of candid photos of your fellow human beings as they go about their lives is strangely compelling, addictive even. It's also very relaxing. Newcomers to it usually get very anxious about being 'caught in the act' when, in fact, I find it to be quite the opposite.
I feel absolutely no pressure to have to 'deliver the goods' like I do when I invest hours to get a landscape or seascape. Sometimes I go out and never press the shutter button – merely because I see nothing which makes a whole story in one instant.
That's not to say that I see nothing of interest, quite the opposite, I ALWAYS see something of interest, I just choose not to capture it because the moments either side of the image complete the story and it would be meaningless without them.
The best images always seem to happen when you go unnoticed and have no influence on the scene. Sometimes the subject happens to look your way at the critical moment but these are few and far between. Even if they do, it doesn't matter, they'd probably do it if you weren't there.
Almost all of my street images are taken with a 28mm lens which means getting really close to your subject without them noticing. It doesn't always work that way of course but people seem to dismiss the possibility of someone taking their picture from so close.
I take Street Photographs for me alone, I just post them here because I think some will work for you too – even though you weren't there. I hope they do.