As a photographer and graphic designer my passion lies in exploring the infinite creative possibilities of digital art ~ through the blending of both colour and imagery ~ my wish being to convey a feeling of hope and healing.
My images have been featured on a number of websites: Just Balance – Yoga Site, Dr Rosina McAlpines Site and also a recently published book cover Reflections on and from Stillness.
My work is available for purchase from this site in a variety of formats:
Greeting cards & postcards
Prints; photographic, canvas, matted, mounted, metal & framed
Posters
Throw pillows & tote bags
I am available for graphic design, photography and commissioned art work. Please feel free to send me a bubblemail with any enquiries or if you would like a copy of my portfolio.
Redbubble offer a money back guarantee on all purchases and are a highly reputable company providing quality products – founded in Melbourne, Australia.
My image 'Blue Butterfly' was featured on the Redbubble homepage in 2011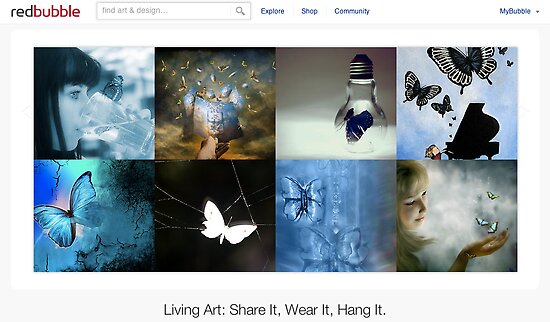 My Mum is also on Redbubble Carol Berliner – check out her amazing work!
Find me on Instagram: em_breathingspace
© Emma Wertheim 2008-2013