Canon 350D
18-55mm lens
Kiama, NSW
Australia
FEATURED IN
Life as Art by Canon Group, August 2013
Shelters Group, December 2012
THE WORLD – Group, December 2012
Image of the day in DeeZ 5Cs Awards Showcase, February 2012
Featured in ♥♥♥PEACE LOVE & TRANQUILITY♥♥♥ Group, February 2012
Australia@Large Group, February 2012
Winner of the *July Super Challenge* in the Destination Australia Group, August 2011 in the Destination Australia Group, August 2011*
Also featured in the Destination Australia Group in August 2011
Destination Australia Group, July 2011
Lighthouses and Ocean Structures Group, April 2011
BUBBLING BUBBLERS Group, December 2010*
CALENDAR SHOP Group, October 2010
Windmills, Watermills, Lighthouses and Ferris Wheels Group, September 2010
Featured in #1 Artists of RedBubble Group, February 27th, 2010
JPG Cast-Off Group, February 2010
The World As We See It , or as we missed it.February 2010
Winner in the Challenge
The Lighthouse
Featured in Featured Art & Photography(EXPLORE PAGE)
That One Great Shot Group
The Australian Travel, Photography and Writing Group
Placed in the Top Ten (3rd place) in the challenge
Lighthouses
Featured in Photographers of RedBubble Group, August 2009
Happy Haven Photography September 2009
Photo's of Lighthouses Group September 2009
!
http://ih1.redbubble.net/work.1738742.4.fp,375&...!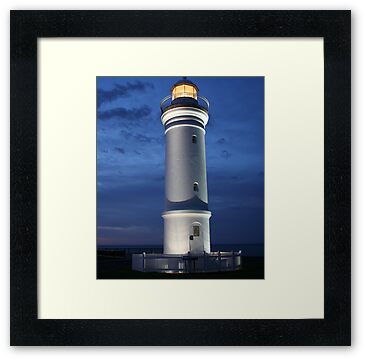 History
The light was established in 1887, 10 years after the creation of the Robertson Basin, a manmade harbour to service Kiama's supply of crushed blue metal and paving blocks for the streets of Sydney.
The tower, built on Blowhole Point, is constructed of brick and rendered outside with concrete.
The total cost for the tower and apparatus was £1,350.
The original apparatus was an oil burner with a catadioptric fixed lens producing a 600 candela green light that was visible for nine miles.
This was upgraded to the local town coal gas in 1908 with an intensity of 1,500 candelas and a range of fifteen miles.
This was further upgraded to acetylene gas and group flashing in 1920. At this point the light was demanned, though Brewis stated in 1913 that the light was unwatched, the keeper's cottage being vacant.
In 1969 the light was converted to 240v mains electricity. A 120v battery bank is used for standby.
The establishment of the light was a big event as noted in the Kiama Independent of 10 August 1886:
Situated on the round apex of Blowhole Point, the Kiama lighthouse stands from sea level to the light at a height of 224 feet. The foundation is concrete, 14 feet in depth and 12 feet in diameter; from the bottom of the foundation to the top of the entrance is 16 feet. The height of the building from the floor to the coping is 36 feet, to the light is 40 feet, and to the top of the weather vane is 50 feet.
The building is of brick, cemented outside and plastered within. The ascent is accomplished by means of three iron ladders, leading from one storey to another, the staircase being lighted by side lights.
The top of the structure is surrounded by a very artistic railing; and the light, which will be of a similar magnifying power to the Hornby light, near Watson's Bay, is very shortly expected to arrive from England.
The lighthouse is now quite finished, so far as the contractors are concerned, with the exception of receiving two or three coats of paint, which is now being done.
A neat hexagonal fence is being erected round the building which will give it the trim and neat appearance and so closely associated in our minds with all lighthouses.
(Note: that the reference to the tower being 224 ft above sea level is quite erroneous as it was actually 121 ft)
Information from
Lighthouses of New South Wales