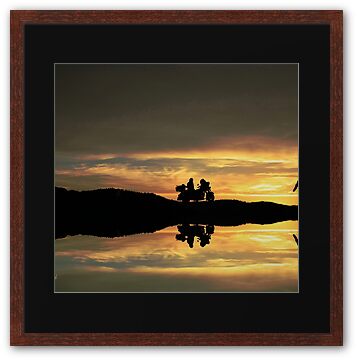 31 favorites
FEATURES INCLUDE: "Silhouette Group" "Sunset/ Sunrise Group", "Simply the Best Group", "Bubble Success Story Group", "Light and Reflection Group"
SALES INCLUDE: One large Canvas Print, One large Mounted Print from Redbubble, and one 11×14 mounted print from Mpix.com.
AWARDS: Overall Champion in County Fair.
This is my SOUL MATE, he is my husband, he is a biker, and a cowboy, and he is 1/4 Native American, from the Cherokee Tribe. He is always in his best element when he is one with nature. He loves the outdoors and especially out away from it all. I took a lot of different shots that evening, and I can't make up my mind which one I like best. I shot hard and fast, took the sky first, then my first shot of my husband, there alone silhouetted against that great sky, reflecting in the water. I shot thinking how amazing, how great, and then the eagle came up. At first I thought it was a hawk, and I was shooting fast and furious without thinking.
On the way down the mountain I caught another shot of the sky with silhouetting trees and animals. Idaho sunsets are spectacular.
I have taken more pictures of my husband, than any other person in my life. He is truly my favorite model, this is the best reason for loving this shot. I also saw a potential with this shot.
He has always wanted a Harley and so I bought this for his Christmas, but unfortunately due to the economy we had to give it up and sell it. We will always have this memory, and my husband says he loves all the pictures I took.
All images are the copyright of the artist –
© Charlene M. Aycock
Images Do Not Belong To The Public Domain.
All Rights Reserved.
Copying, altering, manipulating, redistributing displaying, modifying, distributing and/or selling any image without prior written consent/contract from the artist is strictly prohibited and subject to any and all legal remedies.
A MONETARY SETTLEMENT for any unauthorized use, and prosecution in a US Federal Court, as well as Court Cost will be assessed.
I used my Canon EOS Digital Rebel XT with EOS Lens 70 – 300mm. BEST VIEWED LARGE.
Shutter Speed……………………….1/500 sec.
Focal Length…………………………200.0 mm.
Aperture Setting……………………F/4.5
ISO Speed……………………………400