Como Jetty on the Swan River in Perth, Western Australia shortly after the sun had set leaving behind some Crepuscular Rays coming up from the horizon.
The Jetty is a famous Perth landmark and is heritage listed. It is located along the Swan River, and just North of the mouth of the Canning River.
History of the Como Jetty:
Como Jetty was constructed in 1907 as part of the Como beach development which began in 1905. The Jetty was used by a ferry service in it's early years which served as a stopping point for a service between Applecross, Como and the Barrack Street Jetty.
In 1929 a swimming jetty was constructed at the end of the main jetty after much fund raising, The resulting swimming enclosure became home to the Como Swimming Club (formed in 1931) for many years.
The main Jetty was rebuilt in 1982, and in 1994/1995 the swimming jetty was declared unsafe and was removed, and the main jetty was extended.
Canon EOS 500D And 15-85 IS.
Viewed 3597 times.
Featured in:
A world of EOS, All Countries Wetlands Ponds Lakes And Rivers Beach Piers And Jetties, Art And Collectables Sales, Australia At Large, Atmospheric Land And Seascapes, Beach River And Lake Treasures, Canon Photography Only!, Destination Australia, Elite Images, FEATURED PHOTOGRAPHERS, GEMS, Piers And Jetties, ShuTTerBugS, Sold!, Sunsets And Sunrises, That One Great Shot, THE BEST OF ANYTHING & EVERYTHING, "The Power Of Photography", The Whole Shebang, This, That, And The Other Thing, Timber And Water, TUNNEL VISION, Where on Earth is This?, Which Way Group, World Wide Sunsets.
SOLD
1x Laminated Print.
1x Greeting Card.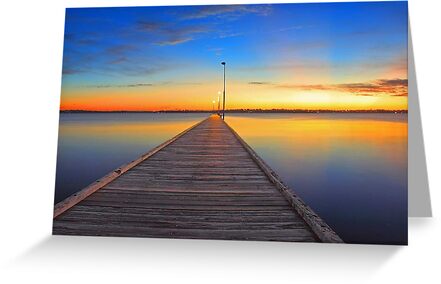 1x Postcard.