I took a drive out to the Southern wheat belt out here in Western Australia over the weekend, and I stopped at various locations along the way.
It was the first day of sunshine this month, and the first taste of spring.
This is a photo of a windmill that I came across while out on my drive.
EOS 500D and 35-350 L.
Viewed 3970 times, Favoured by 32 people.
Featured In:
10+ Features, ♥ Artists Universe ♥, All things Photographic, Australian Landmarks and Icons, Australia – From The Outback To The Coast, Canon Vs Nikon, Country Bumpkin, Cover Shots, Down On The Farm, Elite images, Style! Class! Elegance! Excellence!, GEMS, GLORIOUS SPRING & FABULOUS FALL, LANDSCAPES, SEASONS CHANGE, SERENITY A peaceful place to be!, The Weekend Photographer, WA Red Bubbles Mk II, Windmills & Ferris wheels, YOU GOT IT WE WANT IT.
SOLD
1x Laminated Print.
1x Greeting Card.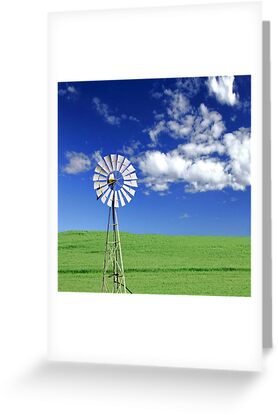 1x Greeting Card.