Mixed media Collage ,acrylics,graphite,charcoal,inks.
On 24 x36 canvas.Ricepaper, old jewelery pieces,found pieces cardboard,and gels.LOOK LARGE!NOV 24 2011 569 VIEWS
Welsh star/moon goddess.Mother aspect of tripple Celtic goddess.Shape shifts to owl. Goddess of time and karma.Her palace was suppose to be in the Corona borealis stars.The silver wheel is her sign , she is full of moon magic and freedom. Info found on wikepedia.
I looked this up as I had been painting her since the new year and looking at collage elements to incorporate .I had painted her and put the owl in and then was wondering what to name her so went on celtic goddesses and there she was,a nice coincidence as this was from my mind not from a preconceived idea.It Has taken 3 weeks to finnish as there are many washes of acrylics in this work.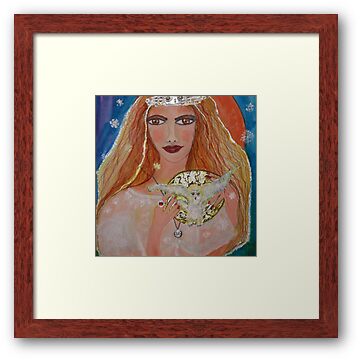 \#1Featured in Original entities jan26 2011


featured in collage group Jan27 2011

featured in impressionist cafe feb 13 23011