The polar King gazes at the aurora lights ,he sniffs the air as he gazes at the sky. He is aware that the ice is thin and food scarce, soon he must find a meal or starvation and inevitably deathwill fell him. A harsh and unforgiving land the arctic but his home for thousands of years . WHAT NOW ???
EXTINCTION!!
Acrilic on 16×20 canvas ,with thick texturization.
Done from sketches I did at the polar bear habitat in Cockrane Ont, Canada
sept 3 2011 436 views and 32 faVS
PLEASE LOOK AT LARGE!
CHALLENGE WINNER ETHNIC ART MARCH122011


Featured in live Love Dream mar 22 2010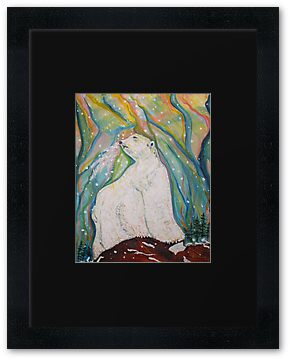 Featured in lake superior artist Aug 30th2010

FEATURED ININSPIRED ART FEB192011

featured nin ethnic art march 12 2011

FEAT8URED IN SHAMELESS SELF PROMOTION SEPT 2011

FEATURED IN PAINTWERS UNIVERSE SEPT 2011