This was the last painting I painted for my first art show last Dec,2009 and because people have been commenting on it in a photo I thought I would post it now.
Timmins Ontario Canada
Liz,s Garden
Walk up the garden path,and through the gate
Into my garden and you will find
A cornacopia for your senses.
The smell of lillies right and left
Poppies blowing to and fro
Songbirds chirping on low bushes
While squirrils and chipmuncks rush by.
Insects knawing on green leaves
Filling their stomacks as they please
Walk about.take pleasure under a pine and birch canopy
See bushes swaying and grasses wayving.
All around Nature pulses
Touch Pansy,s—velvet petals
Feast your eyes ,your ears, your nose
Stroke the bark of the Apple tree.
Listen, a frog,splashes in the pond
A dragon fly floats by
Now you have enjoyed the – calm
That,s my Garden in the Back Beyond.
by . E O,Connor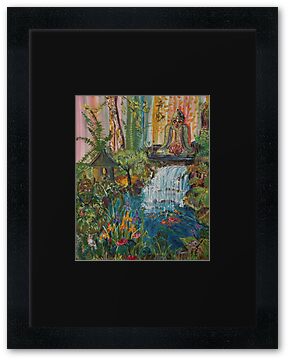 featured in lake superior group Aug 30th2010