This painting was created over the past few days, It is for Winter solstice today,I did one for last year so decided to paint one for this year too.
It is painted with acrylics,metalics and acrylic gels. The stars in her hair and dress are acrylic skins made on parchment paper and dried for a couple of days and then glued in place, to create a 3D effect. There are many layers of paint all put on with a palette knife and only a few small areas touched with a brush.I even used a cake spatula,and toothpicks.and fingerstoo.
I like to try new things to see how they come out. This painting is now on our mantel for the holidays .Peace and joy and love to all !
View large to see the layering.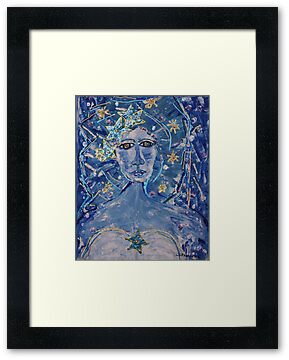 1 Featured in first things group dec 27
2 featured in Beginners group dec 30

4 Featured in theDivine feminine group Jan 1