Winter Solstice.
Here it is,
the Longest Night,
She sees no light,so cheers the night.
Dancing in the stary light.
Breathing frost to give her might.
She listens——and knows,
Dark brings the long sleep to Earth tonight.
Dance and sing,cheer the air,
Cold as ice, her fingers freeze,
Darkness has the perfect right,
Coldness everywhere.
To her delight in the moon lit night,
Winter Solstice alive and well.
Dancing in the crusty air .
This was one of the first paintings that I created in my first year of following the MUSE .It will be in my first solo exibition in December.
View larger.
this is a series of 4 paintings
2009 fall ecquinox
]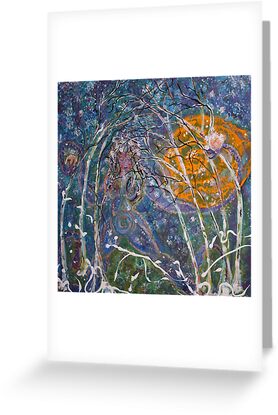 !
http://ih3.redbubble.net/work.4192068.2.lp,375&...!

1.featured in Impressionist ART