30″×24″ Acrylic on Canvas
And from one of my favorite writers and artist's here, I give you
Letting Go, by Linaji
(Thank you with all my heart Lina)
by Linaji
The act was sudden..
I had been bleeding from my prison
called my mind
the earth beckoned me
the air filtered my disquiet and pain.
.
The body began to show me what living requires
.
shutting down my judgments
I then heard the sound of release
Churning like an unused engine
It seemed my own soul was exposed
what seemed to give me a feeling of wholeness
and felt more real than
What I had been living
.
I began to imagine
the act of letting go
.
I dripped out the past like slow honey
I dripped out the future prize like a shower of tears
.
my need to control ~everything ~
my need for approval by anyone else
but me
.
and then,
.
like a clunk of clogged matter in my own
pipping hot drain…
the release of bitterness and regret
made it's way down into the earth
.
where
all things
are then
born again.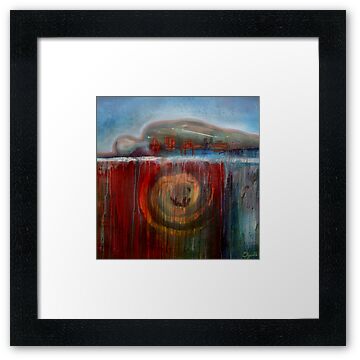 I don't know that I had a vision of this being this way in the end, but the person just sort of came to me…..against a wall standing up……When I laid it down I felt relief……as the fear, anger, hate, frustration of life flowed down out…….she/he finally let it all go. For me the pure blue of the air above is about healing energy. I'm not sure that this is complete. But for now, I am……..Letting Go!!