I'm a mostly a fine arts painter, and I believe in the philosophy that, we were created to create. And so, I have set out to do this never ending task, enjoying, learning, sharing, and teaching it as I go.
For me Art is everything, it always has a beginning but, it never ends… thus, a painter or musician may die but their work lives on. Songs played again and again, paintings viewed without seizing.
I will let my work speak for itself and hopefully, my work will be spoken for by you.
To Redbubble and to all it's members, thank you, for now I feel I'm home.
Please Bubblemail me to license, translate, or represent my work.
If you need to contact me: edy4sure@gmail.com
my website: eddyaigbe.com
I'm on twitter: twitter.com/edy4sure, follow me…
I'm also on Facebook: Eddy AIgbe
These Images Do Not Belong To The Public Domain.
All the images in this gallery are copyrighted & may not be reproduced, copied, uploaded, published, or manipulated in any way without explicit, written permission.
_______________________________________________


Mariska Digital Art Award
Accomplished Artist in Traditional Art
SoJie 18, August 2012

Traditional Art – 2nd Place
SoJie 18, August 2012

Randi Antonsen Fine Art Award
Excellence in Creativity
SoJie 16, June 2012

Sally Sargent Fine Art Award
Excellence in Creative Design – Mixed Media
SoJie 16, June 2012

Linda Apple Fine Art Award
Excellence in Originality
SoJie 15, May 2012

Elena Oleniuc Fine Art Award
Excellence in Abstract Painting Texture
SoJie 15, May 2012

Linda Apple Fine Art Award
Excellence in Interpretation
SoJie 15, May 2012

Dorina Costras Fine Art Award
for Excellence in Landscape Painting
SoJie 13, September 2011

Lynda Robinson Fine Art Awards
Medium Master Acrylic
SoJie 12, August 2011

Traditional Art – 2nd Place
SoJie 15, May 2012

Traditional Art – 3rd Place
SoJie 15, May 2012
May 2012 Juried Invitational Exhibition
Join me at the Juried Invitational Exhibition…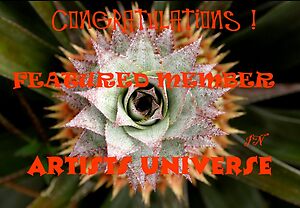 Permanent Member Feature Gallery
The Group New Featured Artist of the Day edy4sure 10/01/2011

Collaboration Reproduction Quality
1st Place
SoJie 13, September 2011

Traditional Art – 2nd Place
SoJie 13, September 2011

*"Collaborative Connection
3rd Place
SoJie 13, September 2011":http://www.redbubble.com/groups/solo-exhibition...*
September 2011 Juried Invitational Exhibition
Join me at the Juried Invitational Exhibition…
Traditional Art – Honors
SoJie 12, August 2011
August 2011 Juried Invitational Exhibition
Join me at the Juried Invitational Exhibition…