Title: The Meeting Place"
Size: 15" X 20"
Medium: Acrylics, Watercolor Pencils, soft pastels, acrylic gesso, Collage (wood filler, glue, paper maché, paper collage)
Ground: Stretched A3 cartridge paper
Please like my Facebook Page & join me on twitter: edy4sure
May 2012 Juried Invitational Exhibition
This is my translation of Elizabeth Bravo's beautiful & inspiring image: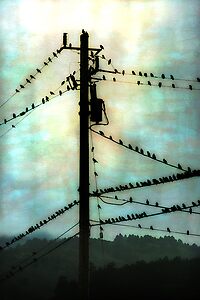 For the Birds
by Elizabeth Bravo
I was inspired to paint this image by the impression that this image made on me. At first, it just looked like a flock of birds on an electric pole but, looking closer, it gave me an insight into the communal nature of animals and the relationships that we as people share as well.
Also, the very visible motifs & symbols that you see all over the paintings are inspired and some are taken from the West African cultures of Ghana & Cote d'Ivoire, and are called Adinkra symbols (read more here: Adinkra Symbols). I used some of their concepts to accentuate the ideologies and beliefs of communal living which takes place at any meeting place, be it, your local bar or pub, tennis club, the gym, church (or wherever it is that we worship). Some of these symbolic meanings are, endurance & resourcefulness, patience, love, tolerance, faithfulness, cooperation, interdependence, hope, strength, adaptability, leadership, and many more.