I bought Penny and Daisy from a poultry farm for $3 each. At 18 months young, "layers" are slaughtered – usually sold to the pet food industry. What an horrific thought that these gorgeous girls, so full of life and personality would've ended up in a tin can! Most hens are confined to cages their entire lives, never feeling the warmth of the sun on their backs, nor the earth under their feet. My girls have been given a new lease on life. After a month, they are finally starting to lay eggs, their feathers have taken on a glossy sheen, they love to talk and always come running to me when I go outside. My back garden is no longer a lonely place. It is so full of life now. I'm totally smitten with my "girls". This is my first egg from Daisy.
Taken with a Nikon D90, 105mm macro lens.
Eggs
1 in 6 hens live with broken bones
Hens cannot spread wings
Male chicks ground up alive or gassed
Chickens are remarkably social and complex animals. They can recognise the individual faces of up to 100 other birds in their flock, develop intricate social hierarchies (or 'pecking orders'), and are even known to be good problem solvers.
Yet the 14+ million hens who are forced to lay Australia's 'cage eggs' will never feel the sun on their feathers, beat their wings, or experience the life that nature intended. Instead, each hen is imprisoned in a wire cage with up to four other birds. Her allocated 'living' space is smaller than one A4 sheet of paper — not even enough space to stretch her wings. The combination of lack of exercise and continual egg-laying, which depletes hens of calcium, leads to weakened bones. It is estimated that 1 in 6 battery hens live in their cages with untreated broken bones.
As chicks, egg-laying hens are commonly 'debeaked'. This involves slicing off part of the bird's sensitive beak with infra-red rays or a hot iron. The pain has been likened to having the tips of your fingers cut off — without pain relief.
'Spent hens', whose egg-laying has declined, are usually killed at about 18 months of age. In order to replace the millions of egg-laying hens who are slaughtered every year, millions more are hatched to replace them. However only half these newborn chicks have any economic value to the egg industry because males can't lay eggs. As a result, every year over 12 million day-old male chicks are 'disposed' of by the egg industry either being gassed to death or ground up alive in a 'macerator'.
in Art Universe group April 2011.
in Art by Bubble Hosts group Feb 2011.
in Best from around the Barnyard group March 2011.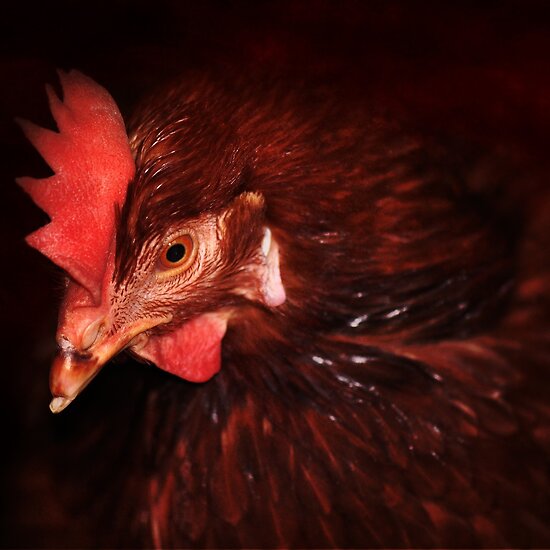 Nothing will benefit human health and increase chances for survival of life on Earth as much as the evolution to a vegetarian diet. ~Albert Einstein