234 views 1-15-2012
Featured in "New to Vintage" 12-30-2010

Featured in "Old Things" 12-16-2010

Featured in "The World As We See It, or as we missed it" 12-13-2010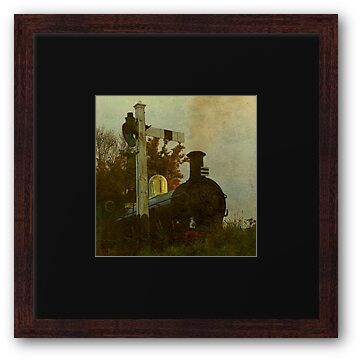 The Bluebell Railway is a heritage line running for nine miles along the border between East Sussex and West Sussex, England. Steam trains are operated between Sheffield Park and Kingscote, with an intermediate station at Horsted Keynes.
The railway is managed and run largely by volunteers. It has the largest collection of steam locomotives in the UK after the National Railway Museum (NRM) (though the Midland Railway, Butterley owns more locomotives after the collection overall), and a collection of almost 150 carriages and wagons (most of them from before or between the world wars), unrivalled in the south of England. In addition to the 30+ locomotives resident on the line, a project is well under way to recreate a long-lost type of locomotive (a London, Brighton and South Coast Railway H2 Class Atlantic) from a few surviving parts.
The Bluebell Railway was the first preserved standard gauge steam-operated passenger railway in the world to operate a public service, running the first train on 7 August 1960, shortly after the line from East Grinstead to Lewes had been closed by British Railways. The Bluebell Railway also preserved a number of steam locomotives even before the cessation of steam service on British mainline railways in 1968.
2007 marked the railway's 125th anniversary. 2009 marks the Bluebell Railway Preservation Society's 50th anniversary. 2010 marks the Bluebell's 50th anniversary of running services. To mark the event, the railway is to hold a gala over 6th-8th August 2010 with all available home engines and two visitor engines.