316 views 1-13-2012
1st Place in the Top 10 Challenge of "February Avatar 2011


Feature
Featured in "All About Lighthouses" 10-23-2010

Featured in "Old Things" 10-14-2010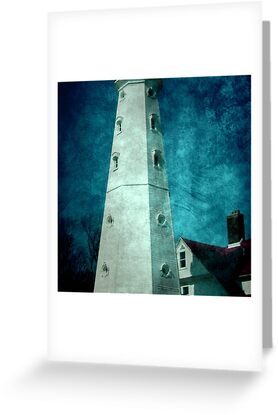 North Point
With completion of the restoration of the Keepers Quarters in the fall of 2007, this historic site is open to the public for tours and visits. Located in Lake Park, one of Milwaukee's first public parks, the North Point Light Station is one of the oldest structures built and still standing in the now-urban area.
For more than a century, beginning in 1855, the North Point Lighthouse stood tall, overlooking the water and beaming out its light to protect and guide ships and watercraft. Keepers and their families lived and worked at the North Point Light Station, ensuring that the bright light was broadcast through fair weather and foul. It symbolizes a time in our history when waterways were the highways between cities. Lighthouses facilitated water travel and commerce on Lake Michigan, throughout the Great Lakes and beyond.
The North Point Lighthouse, located at 2650 N. Wahl Avenue within Lake Park is a historic, maritime "treasure." It has recently been restored to its early 20th century charm through the determined efforts of a group of committed volunteers, the North Point Lighthouse Friends.