•He drives a truck with nearly 200000 miles on it (yeah! that's a lot).
• He's in to work each day by 5 (a.m. that is) and most days doesn't get off before 6.
• He prefers denim and despises polyester but will wear what he's told.
• He can eat a bologna sandwich, bounce a baby and take out the trash.
HE'S REGULAR GUY……..
Regular Guy has eyes in the back of his head, so his 2.3 children tell, that make him able to see and bust up inappropriate activity even before it begins. He has the strength of a thousand men and a heart of gold. Watch him melt when his children cry out in pain; or is brought to tears the day he says goodbye to a beloved family pet.
Regular Guy isn't politically motivated he's just motivated; by truth, justice and the American way. He'll help the guy next door, or help him OUT! Regular Guy doesn't have time for excuses, or self-pity. His motto in life is "When life gets you down, tie another knot in the rope and keep on climbing."
Regular Guy doesn't attend church every Sunday, always keep foul language in his head, nor always keep his temper from flaring in mixed company. It's his ability to be true to one woman, his family, his friends and himself; that day or night, make him a Super-Hero among men.
My Super-Hero is a Regular Guy. And while it may seem like he has more super weaknesses, than super strengths, to know him is to love him, admire him and respect him and never forget him.
He's a "live and let live" kind of guy who regularly gets bashed, but can NEVER be beat. ~TLC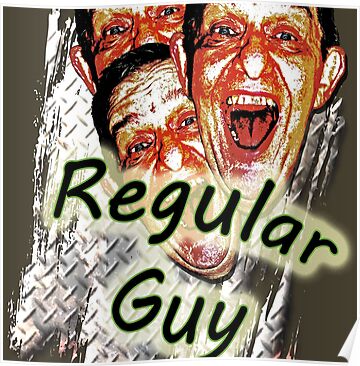 For my entry into the Superhero New York Comic Con Design Challenge
Available here designed for army color tees, but also made available on black tees.
©92011 All images, writting and digital art by Terri Chandler (DwCCreations)