Shot from the pier at Glennridding,Lake District National Park.
Ullswater is the second largest lake in the English Lake District, being approximately nine miles (14.5 kilometres) long and 0.75 miles (1,200 m) wide with a maximum depth of slightly more than 60 metres (197 ft).
Many regard Ullswater as the most beautiful of the English lakes it has been compared to Lake Lucerne in Switzerland. It is a typical Lake District narrow "ribbon lake" formed after the last ice age when a glacier scooped out the valley floor and when the glacier retreated, the deepened section filled with meltwater which became a lake. The surrounding mountains give Ullswater the shape of an elongated 'Z' with three distinct segments (or 'reaches') that wend their way through the surrounding hills.
For much of its length Ullswater forms the border between the ancient counties of Cumberland and Westmorland.
Shot whilest out with Mr Smith
Pentax K10D 18-55mm @18mm
1/30 @ f11 ISO 200 Raw.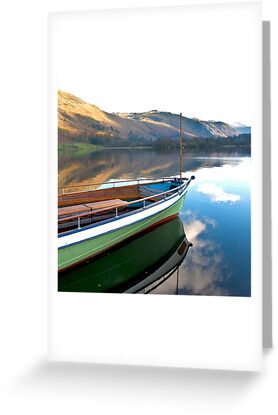 109 views @ 8 Jan 2011