This is a scene from my Poem called "Oscar and the Roses".
Oscar and the Roses excerpt:
"Oscar climbed the statue, the tallest of them all,
In search of the Roses, once and for all!
At last in the moonlight, a sight so fine!
Red Roses in an urn, perfect, divine!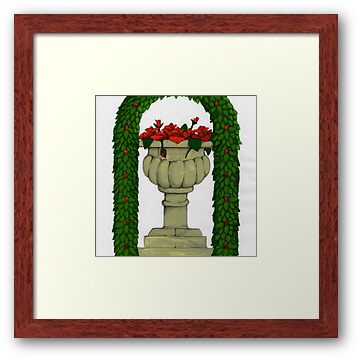 Oscar's hunger was now ever so growing,
He jumped to the urn, with Red Roses overflowing!
He leapt from the statue with the greatest of ease,
and gracefully glided on the gentle breeze.
The urn was tall without a doubt,
But this was no obstacle for Oscar to surmount!
With Wings out wide, Oscar climbed to the top,
Way up high, his struggle came to a stop.
Oscar scoffed the Roses and then grew tired,
Fell asleep, and then quietly died,
All through the night the stars did mourn,
And when the garden awoke, the Roses had thorns.
So listen to the spider and the frogs in the pond,
Don't eat the Roses,
and you can't go wrong.
This is an acrylic on transparency acetate film painting. Size A4.