Thames River View London, UK.
HDR Photomatix Pro.
I'm still shocked to see just how much the new Shard building dominates the London landscape now.
Camera Nikon D700 with 28-300mm Nikon Lense.
ISO 200, 1/60th sec, f/11.0, 28mm, handheld,
Picture Capture Details For this shot I was shooting into the light. The sun was behind the clouds, but it was still very bright. Shooting at normal exposure made the details wash out and it produced nasty blown out highlights too, so I deliberately under-exposed the shot to get detail in the clouds and also prevented any more blown out highlights. Then because I always shoot in RAW, I was able to rescue some of the details in the darkened foreground. I think it works a little:-)
Don's Photography Blog

It was a glorious afternoon on the banks of the River Thames in London today. My day off, so I headed for London Bridge Station then slowly made my way across Tower Bridge taking shots along the way. I was quite surprised to see so many Asian tourists and was stopped a few times to take pictures for them. Obviously carying a tripod they though I knew what I was doing:-) LOL. But it was just great to be free from work for a few hours. It's been quite busy lately with so much going on in my life. However, I was able to relax and enjoy a great bright but cloudy day, the kind of weather that daytime photographer dream off, lots of big clouds with blue sky in between them and bright sunshine lighting up the structures of London.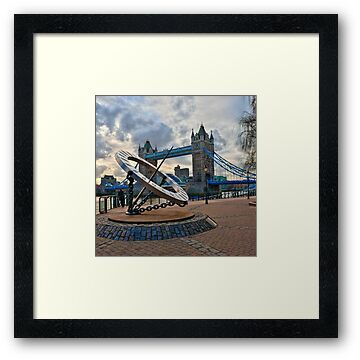 I've never seen this sculpture / artwork before and it's really quite intriguing.