The Crow's Nest The Golden Hinde, London. UK.
Camera Details Nikon D700 with 28-300mm Nikon Lense. ISO 200, 1/40th sec at f/8.0, 150mm. Handheld.
Don's Photography Blog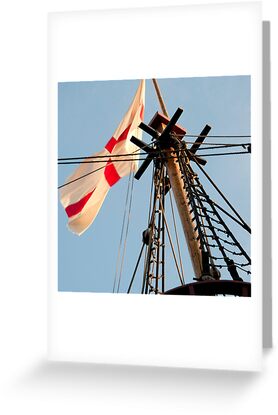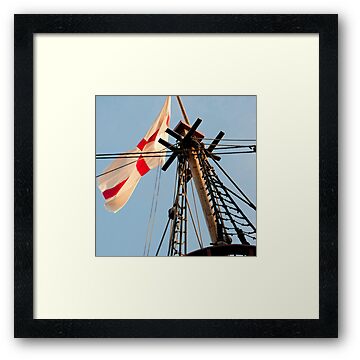 History
The original Golden Hinde became famous as the flagship of Sir Francis Drake during his voyage around the world. The journey took three years, with the Golden Hinde being the only ship to complete the voyage.
Drake left Plymouth in 1577, the aim of the voyage was for Drake and his men to be the first Englishmen to circumnavigate the globe. Queen Elizabeth I gave Drake a charter granting him permission to attack and loot ships belonging to England's enemies – in effect the Spanish. Due to this charter, Drake and his men regarded themselves as privateers, not pirates – however, unsurprisingly the Spanish took a different view and regard him as a pirate to this day.
Drake captured many Spanish ships during the voyage, the most famous being the Cacafuego. The treasure stored on this ship was so immense that Drake's men emptied the Golden Hinde's ballast and stored the booty in the bilge (under the hold) for the remainder of the voyage.
On returning to England, Drake became both rich and famous. Elizabeth I took a share of the prizes captured, the crew each had a share, with even the humblest cabin boy taking home the equivalent of £1million in today's money. Elizabeth visited the Golden Hinde with great ceremony, and Drake was knighted on deck (by the French ambassador, not the Queen, in an attempt to distance Elizabeth from the monetary success of the voyage in the eyes of the Spanish). Elizabeth decreed that the ship should be preserved at Deptford so that the general public could visit the ship and celebrate Drake's and England's success; the Golden Hinde therefore became Britain's first museum ship. Sadly the original ship rotted away in the late 1600s.
 
The Golden Hinde Replica
Our reconstruction, a fully working ship, was launched in Devon in 1973. Since then she has circumnavigated the globe and sailed over 140,000 miles – many more than the original. She is now berthed in St Mary Overie Dock, London, in the middle of historic Southwark, only a short walk from the Clink Prison Museum and Shakespeare's Globe.