Bedraggled Street Performer
Captured @ Portobello Road Market, London. UK. On Saturday 14th Aug, 2010.
I heard a wonderful and familiar sound as we entered Portobello Road Market today. The crowds were thronging and taking ages to snake our way there from Notting Hill Tube Station. The rain was tipping it down or we say on occasions like this it was raining-cats-an-dogs, but the warming sound of a lone Jamacian / caribbean Steel Drum washed over us. It put a sunny dance in our sloshy steps, so I stopped and asked if I could take a few pics, to which the drummer readily agreed and I gave a few coins to show my appreciation again:-) Well worth it too, I think. Even though it was tipping it down, we enjoyed our happy day at Portobello Road Market.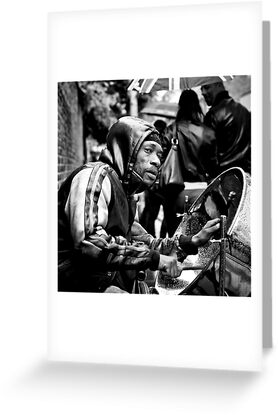 Camera Nikon D700 with 50mm f1/4.
ISO 200, 1/250th sec at f/4.5. Matrix metering,