The Mysterious Burgh Island Bigbury Devon UK
With it's Exclusive Art Deco Burgh Island Hotel.
A room at this swish hotel will set you back between £600 and £345 per night.
It is rumoured that Ghosts roam the island. I've been there many times and there is a strange feeling when you go on this little Island. The people who work at the hotel have not changed in over 100 years. The same staff are ageless. They wear the same uniforms as in the 1900s, and they appear in all the pictures around the hotel. The exact same faces in the pictures as the people serving you. Even in the pub that has been serving ale since the 1300s… When you leave this island, you'll feel something cold leave your soul.
Captured in the early morning light.
Camera Nikon D40x 18-55mm Kit Lense
ISO 200, f/8.0 1/60 Sec. Tripod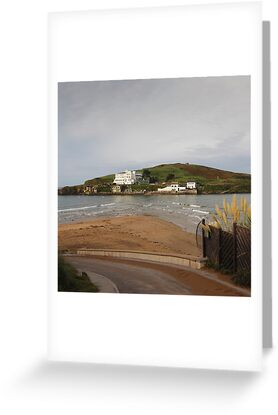 For many years whilst we lived in Plymouth, Bigbury was our family favourite beach. We'd come here many times during the year. There have been many imporvements for tourists in that time, but at a cost, because many more people are aware of it's attraction now.
The children always loved to explore the tiny Burgh Island with it's stunning views across South Devon and out to sea. Bigbury is in a sheltered bay and rarely gets rough seas. Ideal for toddlers, but no good for surfing. There are many rock pools underneath soaring cliffs in which children discover crabs and all kinds of sea creatures.
After a swim there are now showers to wash off the salty sea water…
It's also a great beach to take disabled people because of it's ease of access. You can BBQ on the beach too… Build sand castles, play sports when the tide goes out, it goes out a long way here.
You'll enjoy a visit to Burgh Island and the Exclusive Hotel {if your a rich and famous}…