London Eye from Westminster Bridge. London, UK.
Why the Green Green Glass of Home? Well when I was a boy I'd visit my Grandmother's home and she had some ancient green glass, vases, bottles, trays, lamps and ornaments. Apart from a few they were all green. When the sun shone through her windows the whole room was filled with an etheral green light. One time my grandmother walked in and fear like I'd never had before gripped me. She was staring at me, all dressed in black. The whole room suddenly turned deathly cold, and I could see my breath coming out of my mouth. It was strange because I was sweating and shivering at the same time. In my petrified state I remember looking back at the green reflections from the glass and a calm and peace made me feel secure once more. I believe that light came from a superior being. My grandmother was getting ready to go out to her weekly session at the Spiritualist Church, she was a Medium. Even as a boy without knowing much about what she did, I sensed something sinister and powerful about her. I was always afraid of my grandmother. So the Green Green Glass of Home reminds me of the peace that can be had in the darkest of times.
Camera Nikon D700 with 70-300mm Lense.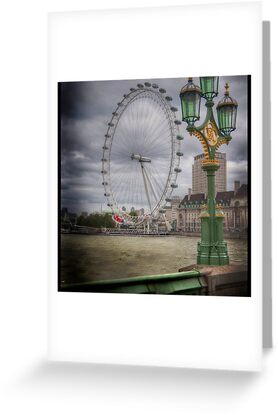 The London Eye and the Lamps on Westminster Bridge are a fav of mine to do some manipulation on.
Photo Manipulations Dodging, Burning, Photomatrix Pro, Layer Work, Selection, colouring, Vibrance.