The M/V Afognak, a fish packer, at anchor in the Port Alexander harbor.
Fish are transported via packers from the fishing grounds and outlying ports to the processing plants in larger communities. These guys and gals work hard around the clock to ensure prompt delivery of our fresh, wild alaska salmon to your dinner table.
"People just don't get it. The fishing industry (in Alaska) puts more people to work than oil and gas, mining, timber and tourism combined." -Quote at the recent United Fishermen of Alaska's 'Fisheries Day' in Anchorage from UFA president Arni Thomson. Fisheries Day was targeted especially to Anchorage and other rail belt policy makers. To them, he says, seafood is an invisible industry.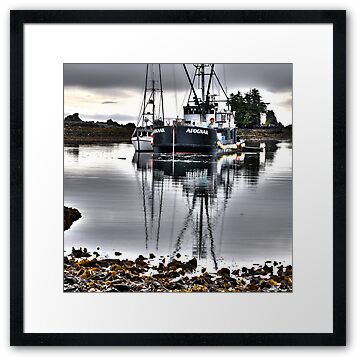 Port Alexander, Baranof Island, SE Alaska
August 10, 2010
D90 18-200mm Lens
5 exposures processed in CS5 HDR
65mm f/11 ISO 400